Mesa Verde Spirit Beads + Prayer Beads + Meditation + Contemplation + Ancestral Pueblo + Desert Southwest + Dawn Wilson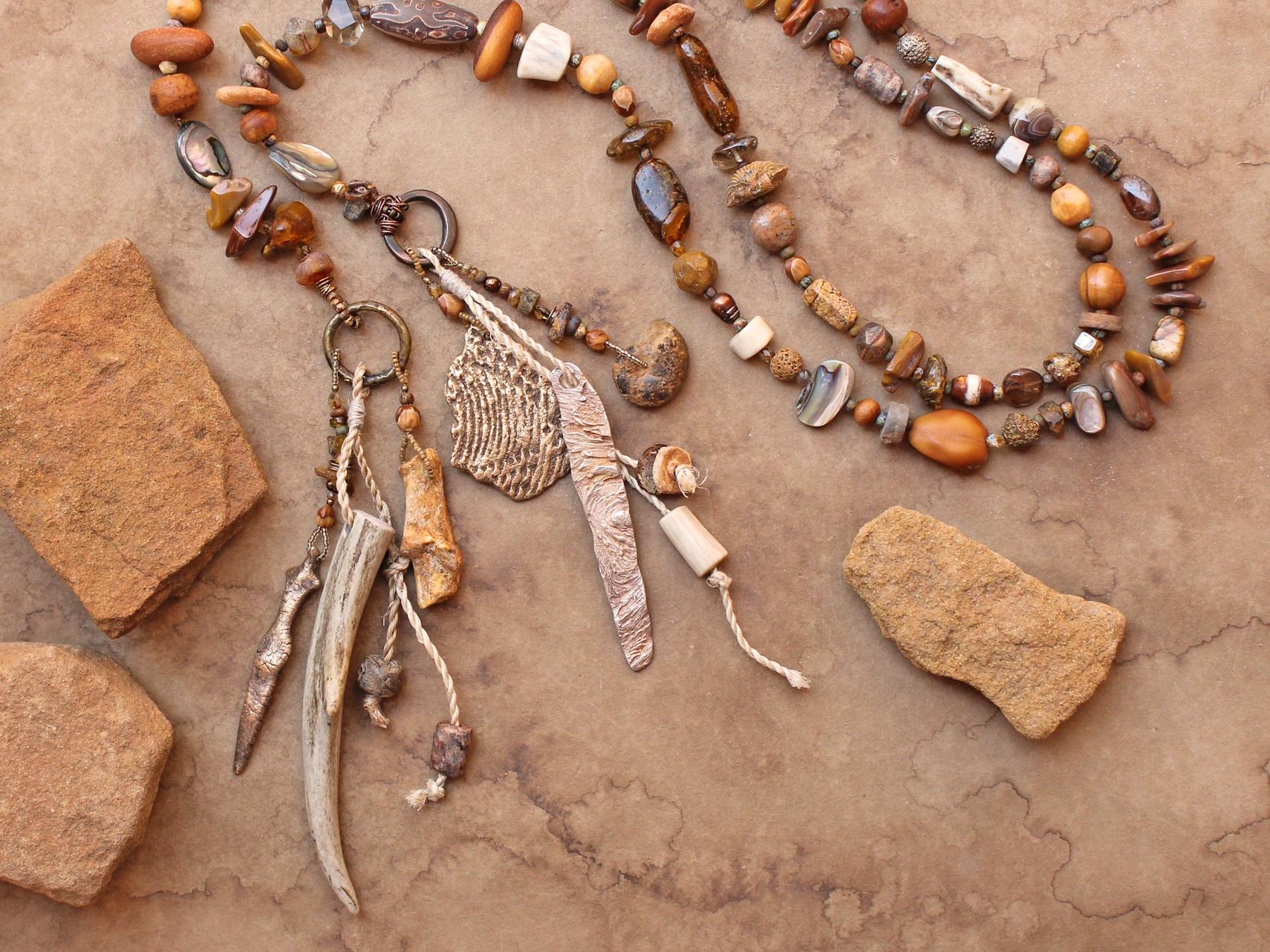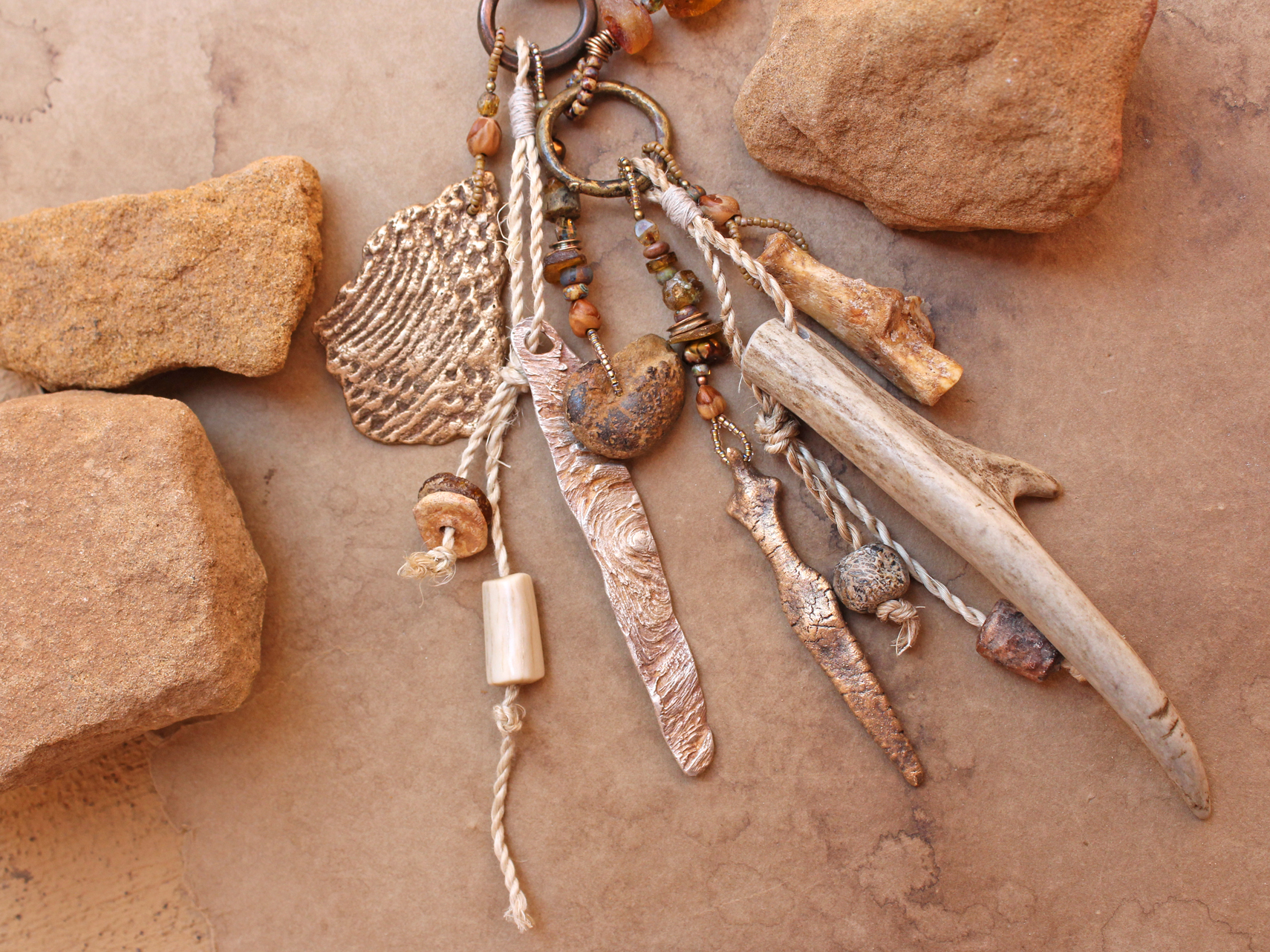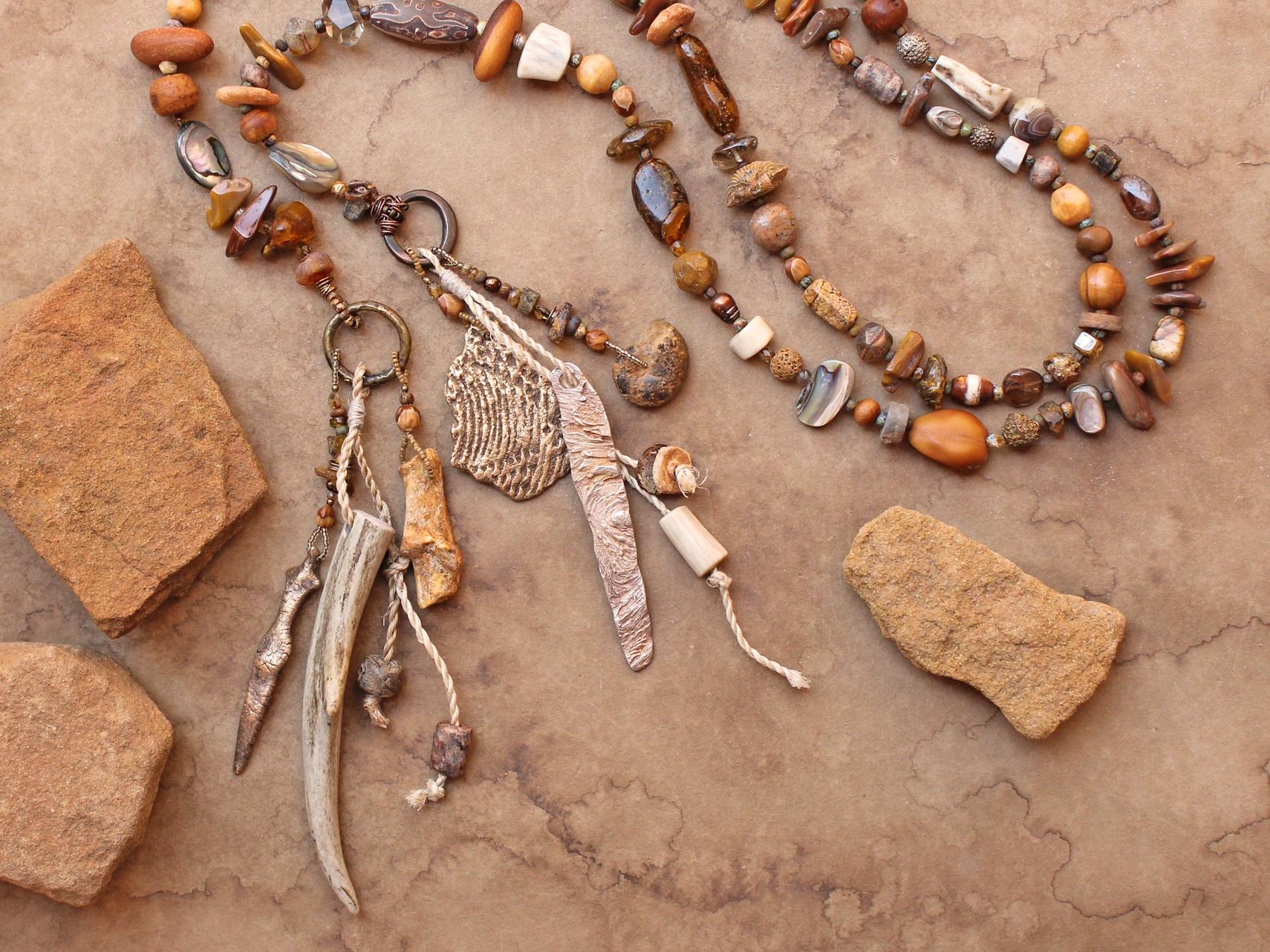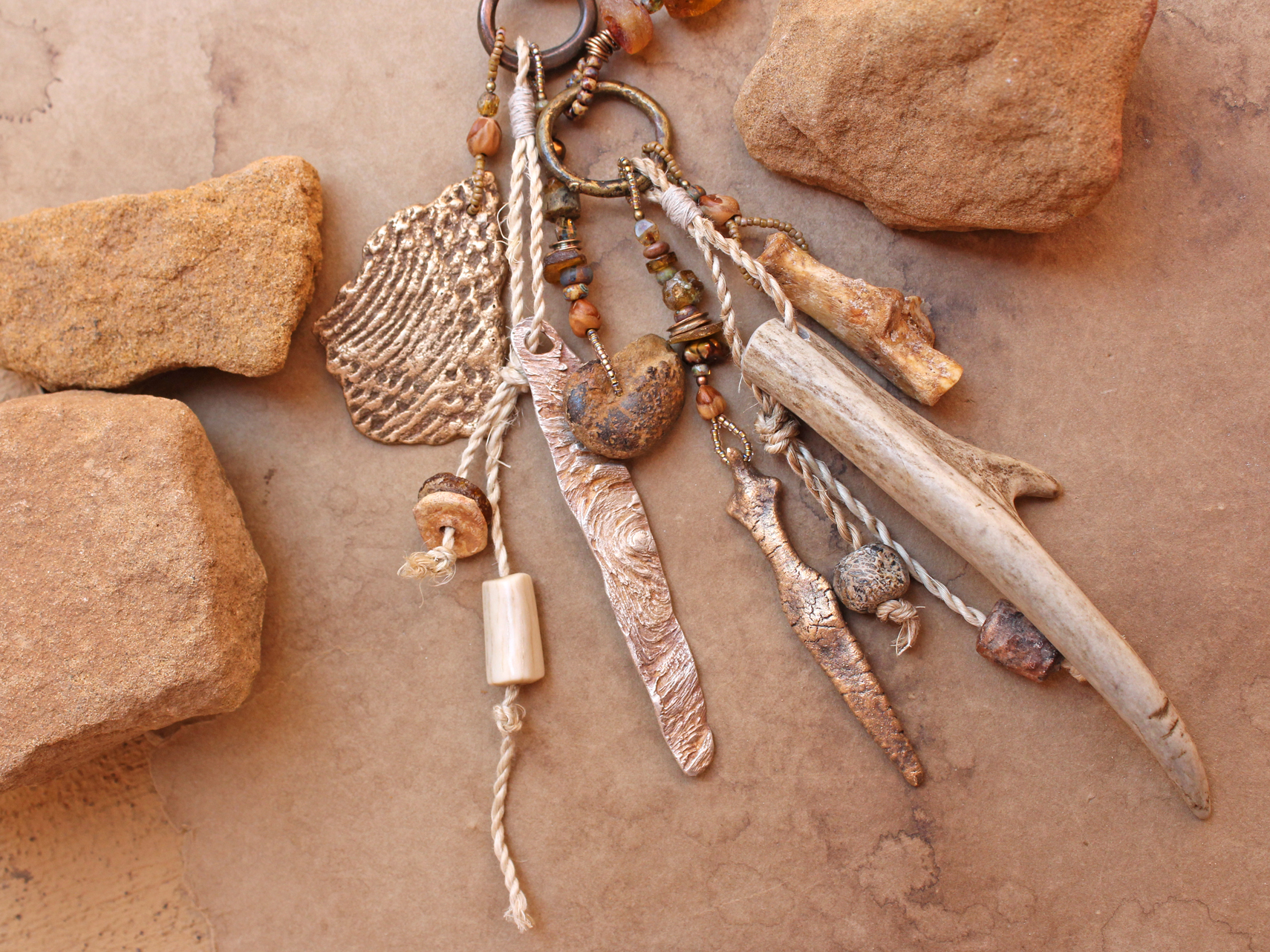 sold out
Mesa Verde Spirit Beads + Prayer Beads + Meditation + Contemplation + Ancestral Pueblo + Desert Southwest + Dawn Wilson
Spirit Beads that take you to a high mesa where cliff dwellings reflect the amber light of the autumn sun
:: Mesa Verde :: Spirit Beads ::
This is the time of year that my thoughts travel to Mesa Verde, that beautiful high place graced by a very sacred energy. As the days cool and the nights are filled with stars, the colors there turn to gold and rust and there is a sweet mellowness in the air. The modern Pueblo descendants of the ancient ones of Mesa Verde say that the ancestors still dwell there in that place, and I can truly feel their gentle presence in quiet moments.
I created this set of Spirit Beads as I attuned to this beautiful feeling, and they sing that song through their colors, textures and materials. Each piece I make is like a musical composition in which shape, progression and transition expresses a quiet rhythm and conveys a unique energy. So this set is closer to that richness and healing beauty than any I've made before. It is warm, balancing, grounding, uplifting and it feeds the soul.
About Spirit Beads:
I have been making Spirit Beads for nearly 20 years now, and they remain one of my favorite things to do. These long hand-held strands are created for prayer, meditation, ceremony, and present-moment mindfulness practice. You're invited to enter into a living relationship with them, one which will become richer and deeper over time. They're made to give you something physical to touch and hold as a reminder of the presence of Spirit in daily life...everywhere, and in everything. I tend to use mine for centering, to calm me and still my mind, and connect to places that are sacred to me. What I love about Spirit Beads is that you are free to create your own way of using them, any way you choose. This open-ended "shawl" style was originally created by contemporary prayer bead artisan Eleanor Wiley, who has traveled the world teaching others how to make and use their own prayer beads. Eleanor's work was a great inspiration to me in the early days of jewelry designing and continues to be so today. I will include an information sheet with this set that will give you some suggestions as to how to use them.

The Mesa Verde Spirit Beads are meant to work mainly as a hand-held strand of prayer beads, but you can also wear them as a large ceremonial necklace. For this, you can wear them in an open-ended fashion, as shown in the first photo of the mannequin, or you can tie them with the beaded elkhide tie which is included in your order. The second mannequin photo shows how they look when they are tied. These beads look lovely kept on your home altar, coffee table, nightstand, or even hung on the wall...any place where they will invite you to pick them up, and easily come to hand. I have several sets of Spirit Beads and keep them on my mannequin or on the walls so I can always see them. They help bless and energize my workspace and home.
The Talismans:
The talisman bundles are the first things I make when starting a set of Spirit Beads, and they must always contain some special and unique items. For this set I hung two of the talismans on genuine yucca fiber cordage, which was made and used in abundance by the Ancestral Pueblo people of Mesa Verde and beyond. I have been learning how to do this, and made this cordage myself using traditional methods and yucca leaves harvested from my own New Mexico land. A large point of deer antler hangs from one cord, while a fine silver PMC pendant, molded from ponderosa pine root found at El Malpais National Monument, hangs from the other. Beads of antler, clay, ancient Bactrian glass and fossil stegodon bone also hang from them.
A bronze clay potsherd replica, which I molded from the original belonging to my friend, ambient composer Steve Roach, hangs with a small fossil ammonite on beaded strands on one side. Steve used to have a ring of potsherds behind his house that he called the Ancestor's Circle, and this potsherd was a part of it. On the other side, my handmade bronze bird goddess hangs with a weathered deer bone, also on beaded strands. The rings that the talismans hang from are African; one is copper and the other brass.
The Beads:
These are in an array of warm colors, the colors of Mesa Verde. They are accented with juniper seeds here and there: junipers grow in abundance on the Mesa and the seeds found their way into ancestral ornaments. Abalone shell shimmers in iridescent contrast to the warm earthiness of the strand: abalone was a prized material, traded from the far Pacific coast, to ornament dancers and the ceremonial items of the ancients. It represented precious, life-giving water. Deer antler was also commonly used as deer were important sources of food and materials. These antler beads were made from naturally shed antlers.
Also from the Southwest are a number of tumbled petrified wood chips from the Chinle Formation of Arizona, in reds, golds and soft browns. Other beads include fossil fish bone, brachiopod, ammonite, crinoid, and dinosaur bone...Baltic amber...wood and antique camel bone prayer beads from Asia and Africa...picture jasper, Botswana agate, andalusite, smoky quartz, etched agate, and brown tourmaline crystal...brass from Africa...ancient Bactrian glass...and more. The spacer beads are mostly Picasso finish Czech glass with a couple of picture jaspers thrown in.
The strand was strung on durable medium-weight beading wire (stainless steel fibers coated with nylon), and wherever possible I lined beads with larger holes with glass seed beads to help them sit better on the strand. This protects the beads and improves the lifetime of the piece, and also improves the way the strand feels when it is worn and held in the hand.
SIZE: The strand measures 58" end to end.
CARE: Of course this is durable and made for daily handling, but because of the fossils, ancient, organic, and clay elements, don't be overly rough. Wipe the beads with a soft, damp cloth if you wish to clean them, as antler will split if soaked in water.
PRESENTATION: These Spirit Beads will arrive beautifully giftwrapped. See the shop policies below for details.
++ Shipping is included in the price. ++
HAVE A QUESTION? Click on the shop policies link below for more information. Feel free to contact me if you don't see the answer there.
contact Dawn :: shop policies :: copyright 2017 Dawn Wilson-Enoch