Sterling Silver Granite Cuff Bracelet + Echo Rock + Mojave Desert + Joshua Tree National Park + Stone Texture + One of a Kind + Rustic + Organic + Wabi Sabi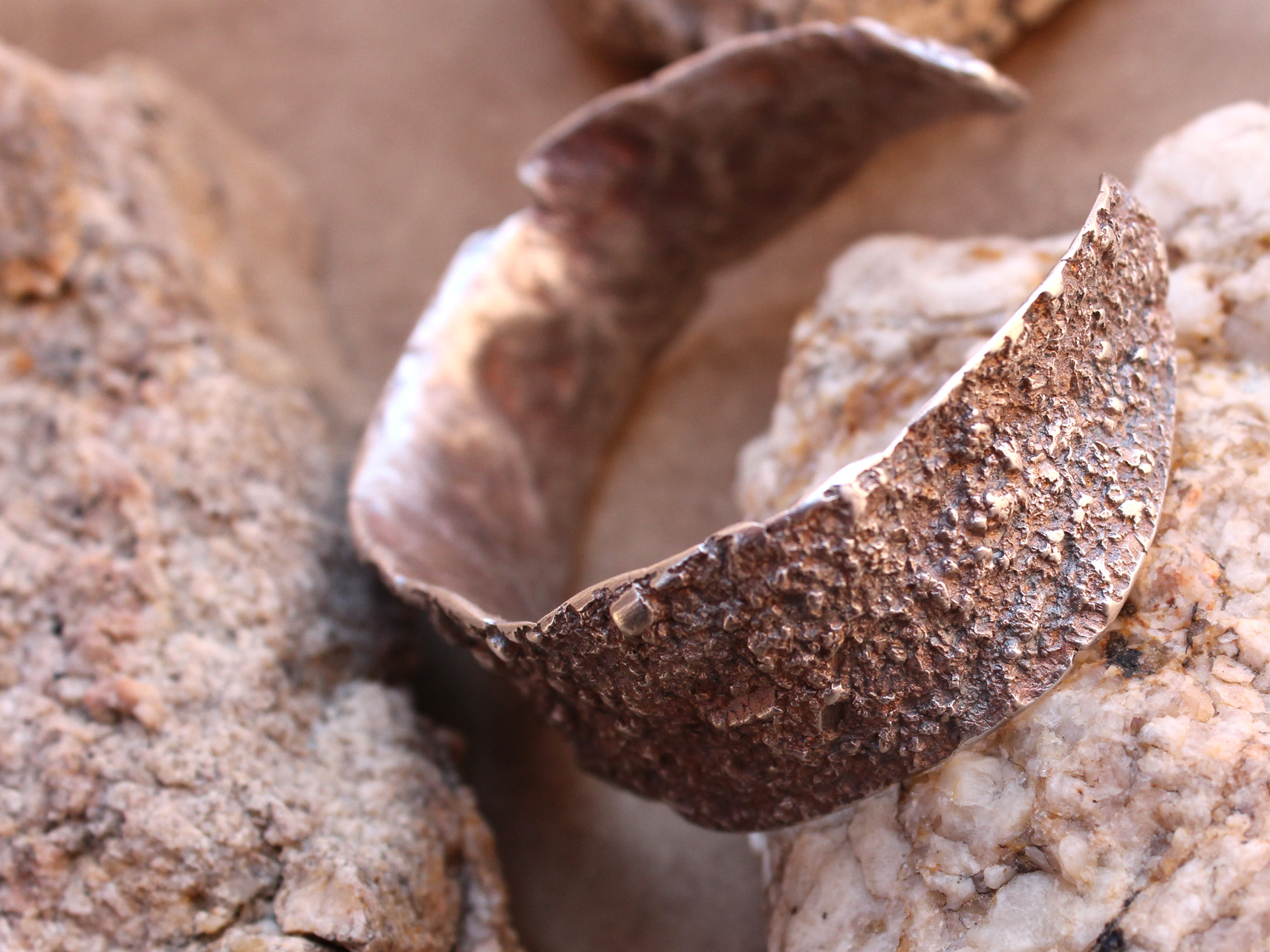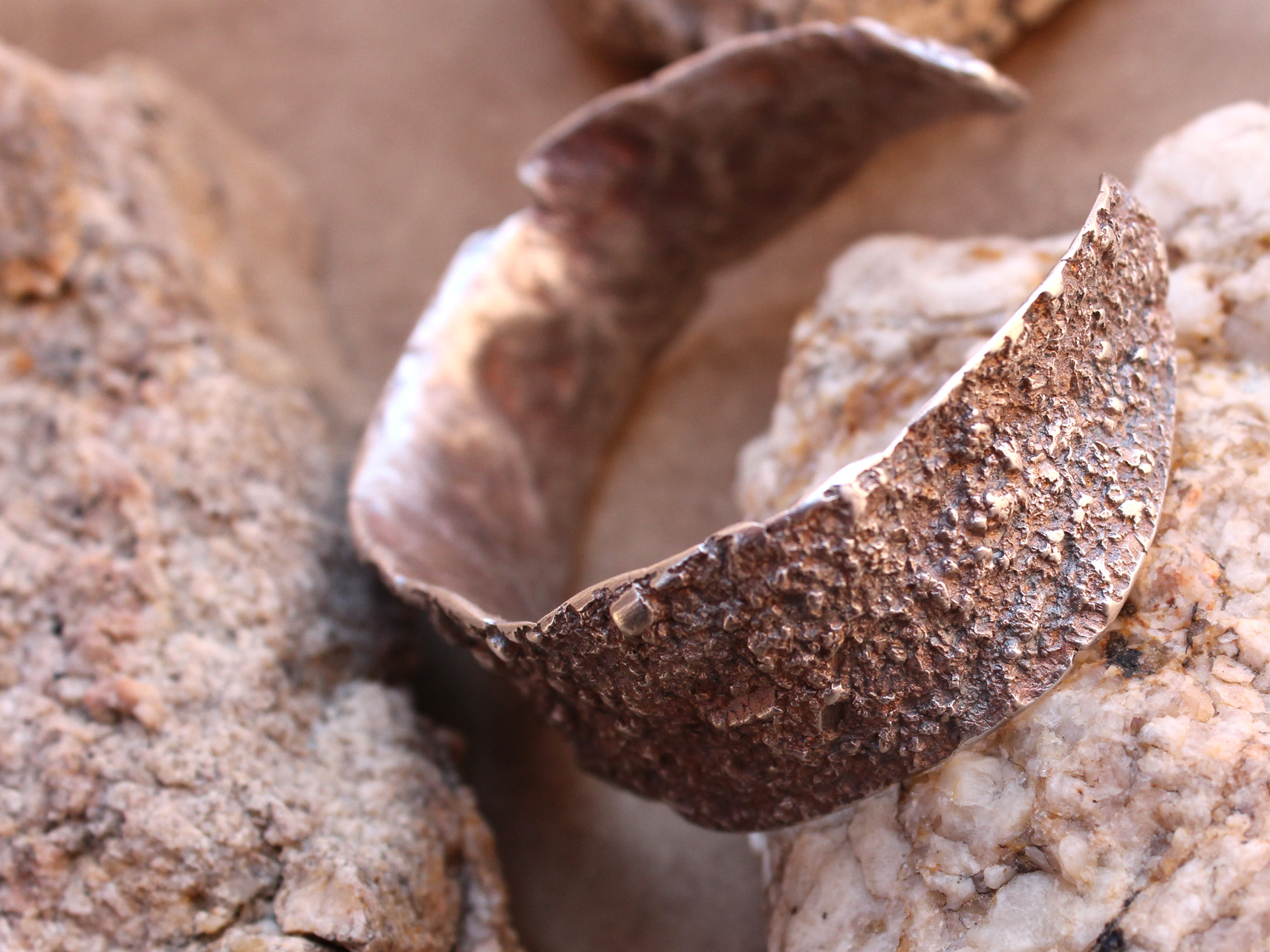 sold out
Sterling Silver Granite Cuff Bracelet + Echo Rock + Mojave Desert + Joshua Tree National Park + Stone Texture + One of a Kind + Rustic + Organic + Wabi Sabi
A Joshua Tree granite boulder turned to silver, wrapped around your wrist
:: Echo Rock ::
This substantial cuff was molded from a white granite boulder in the Mojave desert, at Joshua Tree National Park in southern California. I took the impression mold in the Echo Rock section one warm, brilliant winter day while visiting there with my grown son, Max. You can see the lavender mold compound setting up on the boulder in the third photo. I noticed that the granite textures varied considerably from place to place and this boulder was very finely grained compared to many others.
Joshua Tree and the Mojave in general feel like prehistoric places, as if dinosaurs and mastodons could suddenly appear around any bend. Or maybe I watched too many episodes of the Flintstones when I was growing up. At any rate, it is an extraordinary, wild and unique landscape, made for dreaming into.
This cuff was created from sterling silver metal clay, or PMC. The raw clay was pressed into the mold and then carefully formed into a cuff, dried and fired in a kiln. After the binder burned off only pure sterling silver remained. I gave it a softly iridescent gray patina that will grow richer with time, and ground away the sharp high spots so they would not catch on fabric or skin. The resulting cuff is a perfect replica of the boulder's crystalline texture as it sits, even now, in the desert sun.
This bracelet is one of a kind and entirely worked by hand. It is a perfect memento of Joshua Tree if you have ever had the good fortune to visit, and a beautiful evocation of the timeless and elemental textures of the Mojave desert.
SIZE: The internal dimensions of the cuff are 2 1/2" x 2". The opening is 7/8" wide. This size can be increased or reduced by opening the ends up to 1" in either direction. When you receive this cuff, you will have the option of carefully reshaping it for optimal fit on your arm. As you do this, be sure to support it securely and bend it very carefully and slowly. The cuff itself is 7/8" wide.
CARE: Even with a bit of flexibility to the metal, a cuff bracelet should not be bent a lot as you put it on and take it off, as this will cause metal fatigue leading up to eventual breakage. Other than that, this is a very durable piece that will only improve with age. The patina will deepen over time, while the high spots will brighten with wear polish. You can buff it with a dry kitchen scrubbing pad to brighten it with a matte surface. You can also polish it with a silver polishing cloth but that will produce a much shinier finish on the high spots. Otherwise, wash with soap and water as desired.
PRESENTATION: This bracelet will come to you beautifully giftwrapped. See the shop policies below for details.
++ Shipping is included in the price ++
HAVE A QUESTION? Click on the shop policies link below for more information. Feel free to contact me if you don't see the answer there.