Primitive Fused Fine Silver Charm Bracelet + Ancient Ivory Artifact + Prehistoric + Stone Age + Desert Textures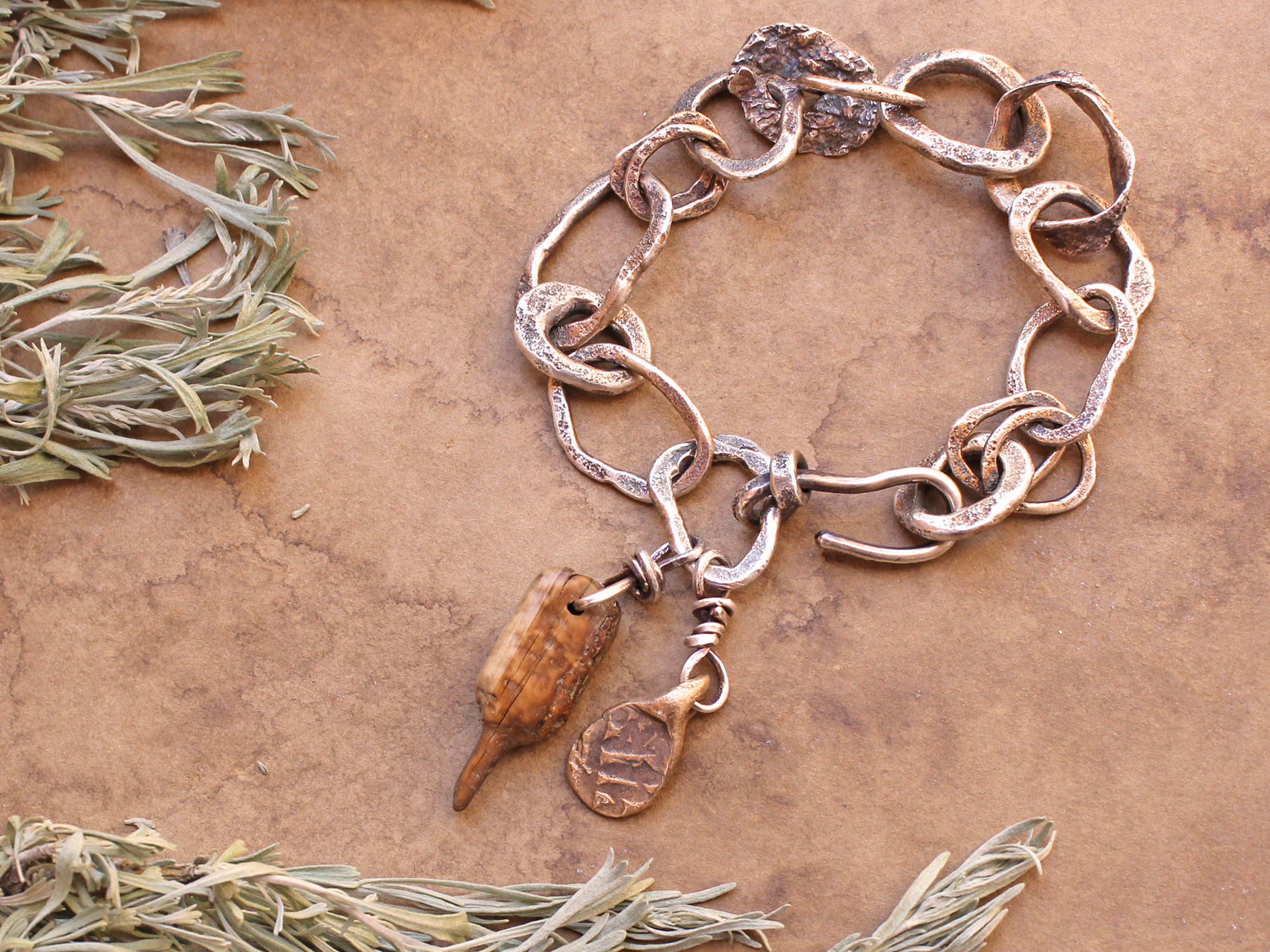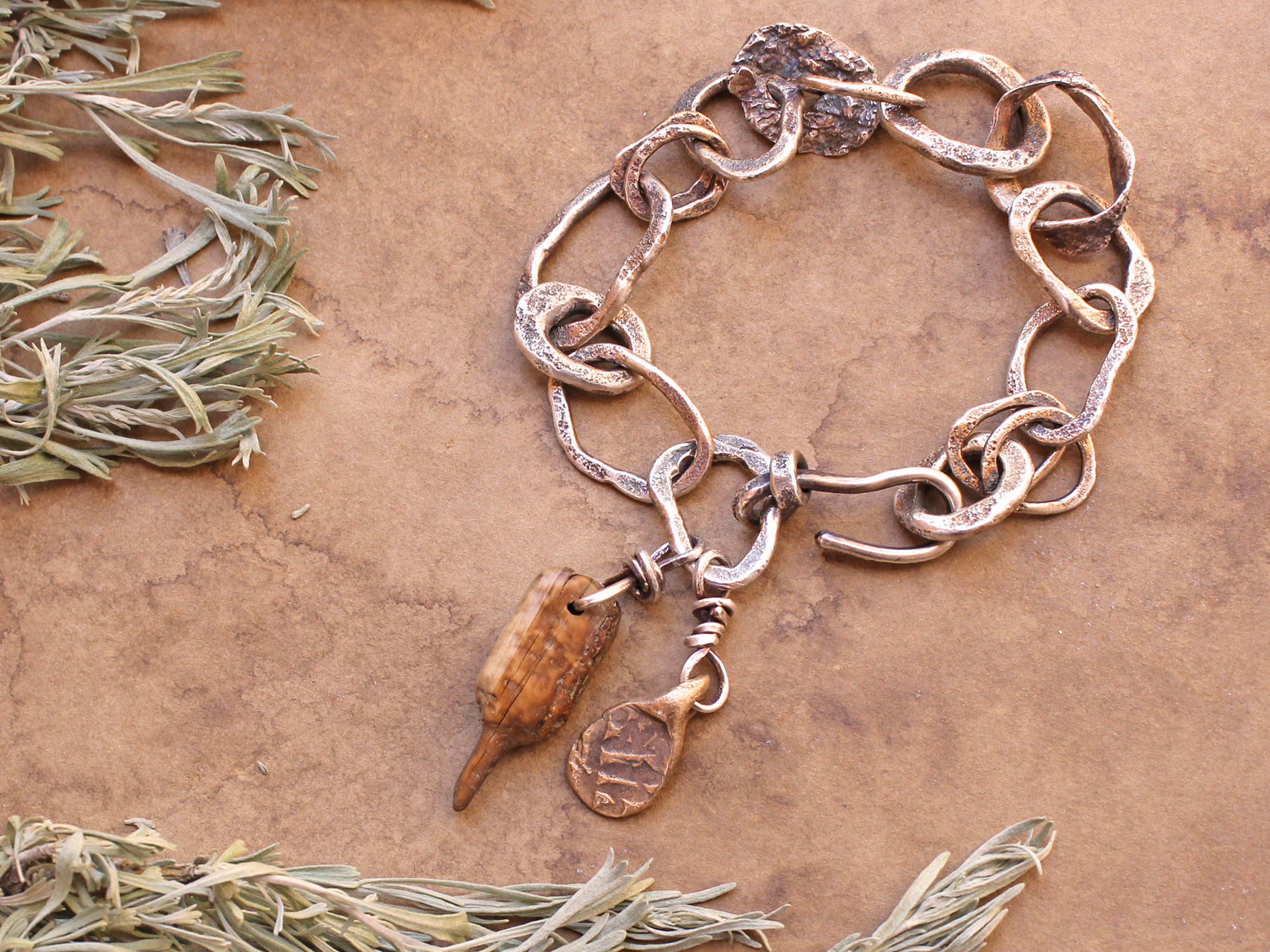 sold out
Primitive Fused Fine Silver Charm Bracelet + Ancient Ivory Artifact + Prehistoric + Stone Age + Desert Textures
A bracelet of heavy, primitive silver links with an ancient ivory artifact and bronze charm
:: Wayfarer's Bracelet ::
+++ Contains Ancient Alaskan Walrus Ivory: For US Domestic Sale Only +++
Here is another offering from my fused silver charm bracelet series. Each one of these bracelets is made one link at a time, and no one is quite like the other. For this one I used heavy gauge fine silver to form the links, fusing them, hammering them on desert rock for texture, then laboriously sanding and refining them. They were then oxidized to a deep iridescent palette, and given a final finish. The resulting links are deeply primitive in appearance yet perfectly smooth to the touch.
Interspersed with the links are two handmade fine silver PMC elements. One, a disc, was molded from the coarse-grained granite of Arch Rock in Joshua Tree National Park in California. A stunningly beautiful formation, I climbed up to the top of the arch to make the mold for this piece. The other PMC element is a slightly crushed ring which was molded from a remote granite boulder in the Cadiz Valley, in the Mojave desert NE of Joshua Tree.
The hook closure is sterling silver for extra strength, and it is finished in the same way as the links.
The charms are also on sterling. One is a special little piece, an excavated and polished ancient ivory tool called a scribe or graver; it would have been used to incise designs into surfaces. It is from an old village site on St. Lawrence Island, Alaska, where the Native population reserves the exclusive right to dig for old ivory. The other charm is made of bronze metal clay and was impressed with an ancient coin from India, from the Post Gupta period after the 5th century A.D.
The bracelet is designed so that the charms act as a counterweight that prevents the bracelet from shifting on your arm. If necessary, you can fasten it onto one or more of any of the links above for a perfect fit.
This is a bracelet to remind you of landscape, the granite bones of the earth. It is a primal connection to deep time and our recent and ancient past, both on a human scale and on the far vaster geologic scale of the Earth. The primitive and elemental beauty evoked is deeply nourishing and grounding, a comfort in changing times.
SIZE: Maximum length is 8 1/2", and you can wear it shorter by attaching the hook to the link of your choice. You can find the size of your wrist with measuring tape. If you don't have tape, simply encircle your wrist with a strip of paper, mark the length, and then lay it flat next to a ruler to find your measurement.
CARE: Rinse briefly in cool water to clean. Do not soak. Gently blot dry with a soft towel. The patina on the metal elements will grow richer over time. If you would like to brighten them, gently buff with a dry kitchen scrubbing pad or steel wool to bring out the high spots. If you prefer a high shine, use a jeweler's polishing cloth.
PRESENTATION: This bracelet will come to you beautifully giftwrapped. See the shop policies below for details.
++ Shipping with insurance is included in the price ++
HAVE A QUESTION? Click on the shop policies link below for more information. Feel free to contact me if you don't see the answer there.