Freeform Ice Quartz Pendant + Handwoven Beaded Cord + Desert Style + Boho + Tribal + Dawn Wilson + Talisman + Gary Wilson Stone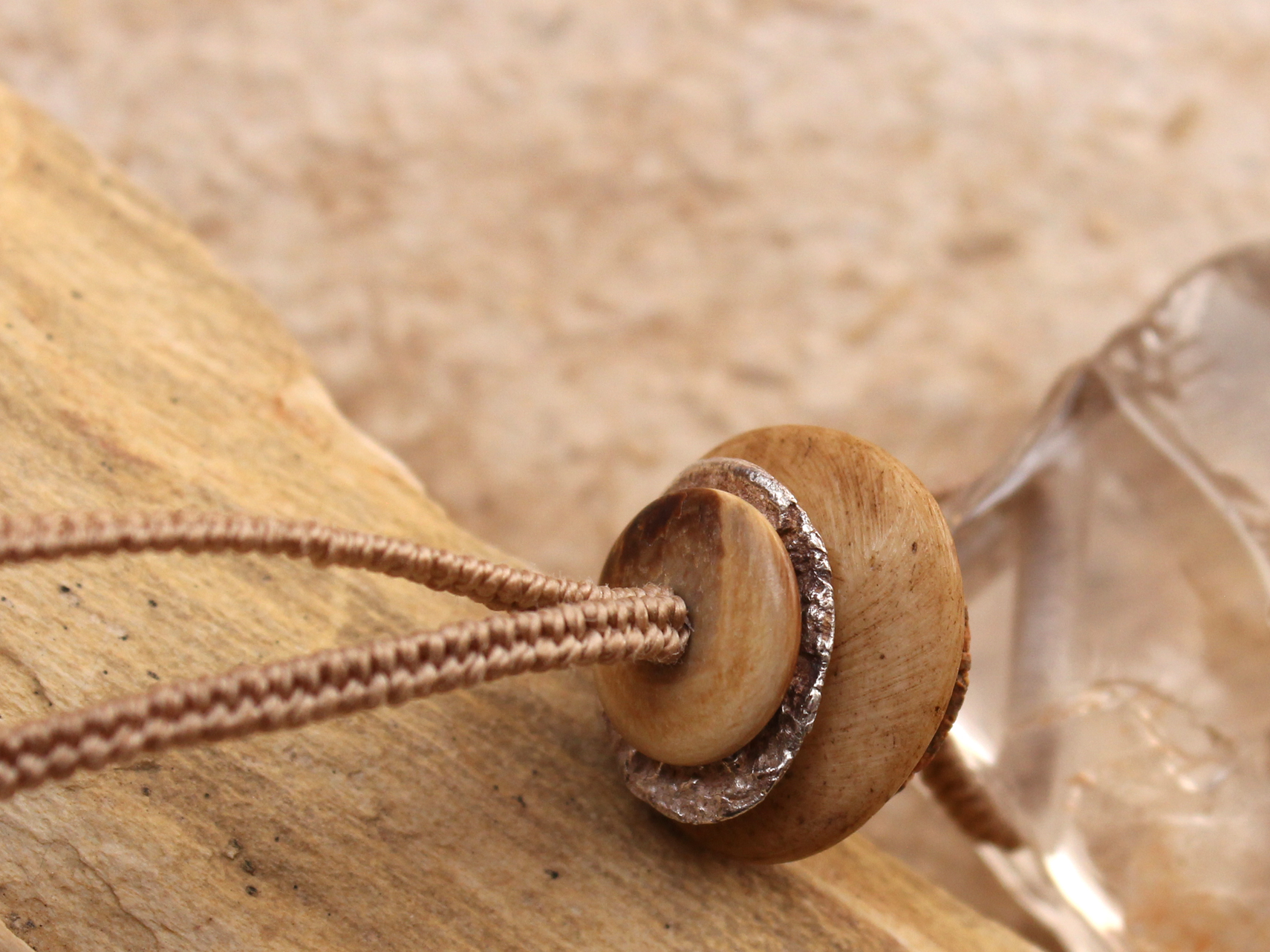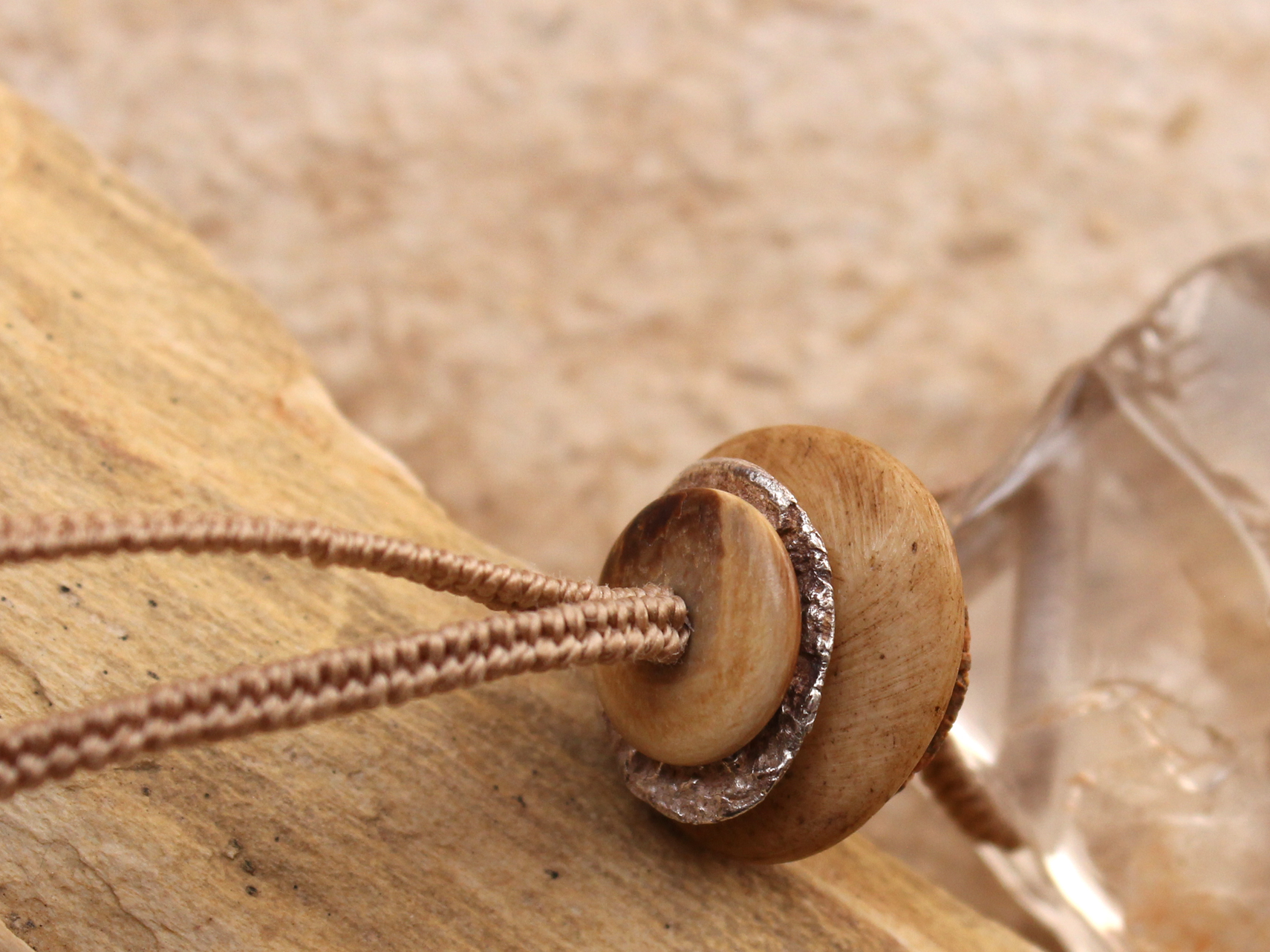 Freeform Ice Quartz Pendant + Handwoven Beaded Cord + Desert Style + Boho + Tribal + Dawn Wilson + Talisman + Gary Wilson Stone
A stunning treasure of desert style!
:: Sanctuary Talisman ::
+++ Contains Ancient Alaskan Walrus Ivory: For US Domestic Sale Only +++
This is pure desert light and earthy elegance…a large teardrop of fractured quartz on a warm earthy handwoven cord studded with beads. This is the kind of piece that I see being worn by the people of the Dreamtime desert…organic shapes and soft, warm tones that have a wild edge to them and look as if the could have been created by nature. Looking at or wearing a piece like this draws you into that peaceful, sunlit space of stone and light.
The pendant is from the lapidary of Gary Wilson in Tucson, Arizona, and is made from clear quartz that has just a hint of warmth to its tone. These quartz pendants have been much in demand. The raw, fractured surfaces of the stone are juxtaposed with smooth polished surfaces in a very pleasing combination. There's even a little rainbow in the quartz, which also makes it a talisman of joy.
I prefer to put stone pendants like this on a handwoven nylon cord, and on this one many tiny beads have been woven into it in a time-consuming and meticulous process. I used Mali clay beads from Africa and tiny Picasso finish glass seed beads to create an asymmetrical progression up the strand, in a pattern evoking the growth of desert plants such as yucca, sotol, and ocotillo. Interspersed with them are stacks of handmade stoneware discs and contemporary beads made from ancient walrus ivory. The larger stack of beads above the quartz is made with ancient ivory, stoneware, a large bone disc from Africa, and a handmade fine silver PMC bead molded from ancient fossil rock from New Mexico.
It's a very wearable, versatile and durable piece…the cord will soften as you wear it and it is washable (see Care instructions below), and the quartz will always bring you delight. Pure desert light…
SIZE: The necklace measures 18 3/4" from the back of your neck to the bottom of the quartz pendant when worn. The quartz pendant measures 1 5/8" x 1 5/8" x 3/4"
CARE: Rinse briefly in cool water to clean. Dry with a soft, damp cloth. The nylon cord may be spot cleaned with mild fabric detergent but do not soak the Mali clay beads.
PRESENTATION: This necklace will come to you beautifully giftwrapped in an earth-friendly and recycled gift box. Please see the Shop Policies below for details.
++ Shipping is included in the price ++ Shipping to Canada and Australia is available for an extra charge ++
HAVE A QUESTION? Click on the shop policies link below for more information. Feel free to contact me if you don't see the answer there.