Lightning Struck Wood Talisman + Handwoven Linen Cord + Ancient Beads + Transformation + Storm Energy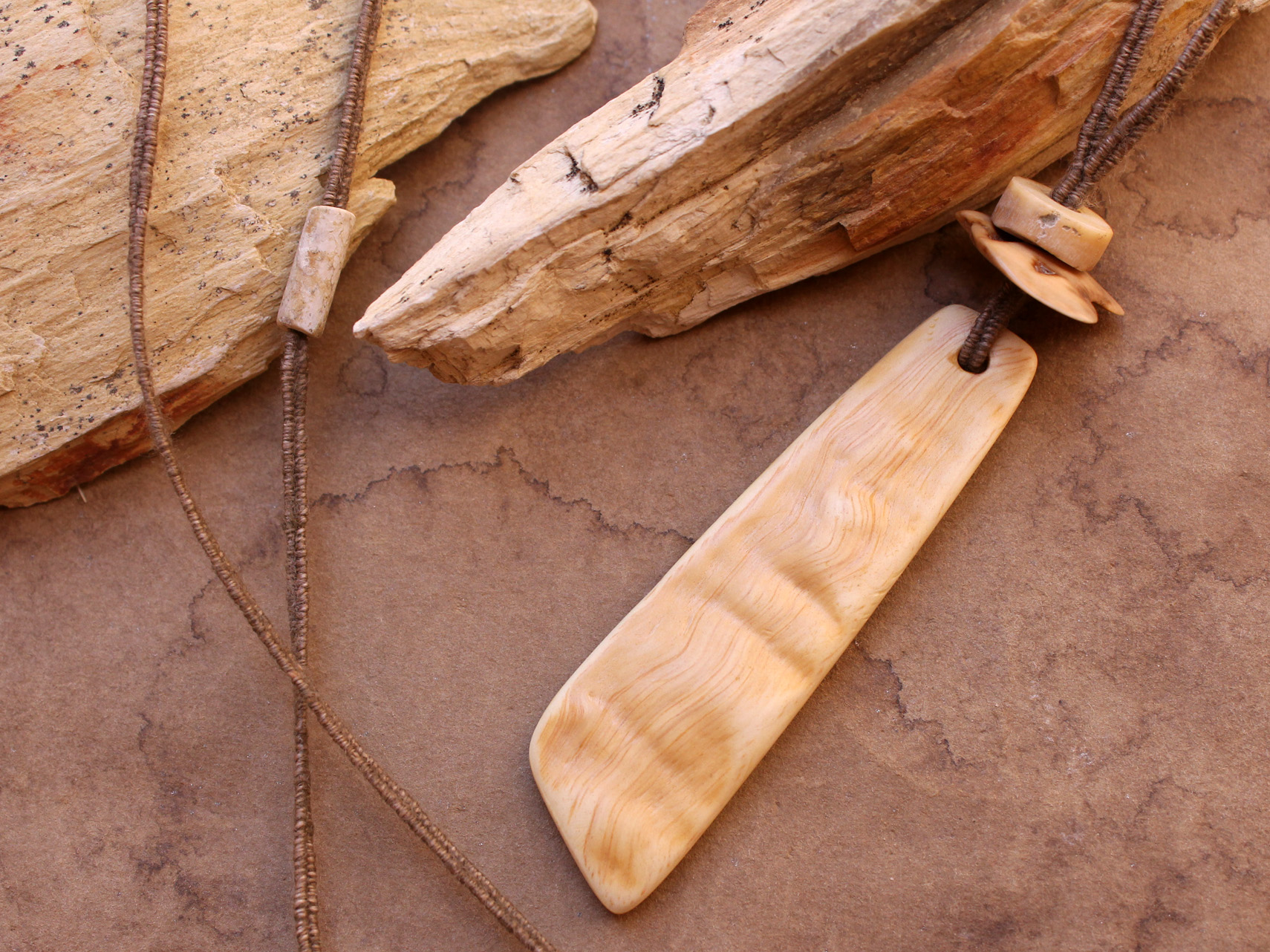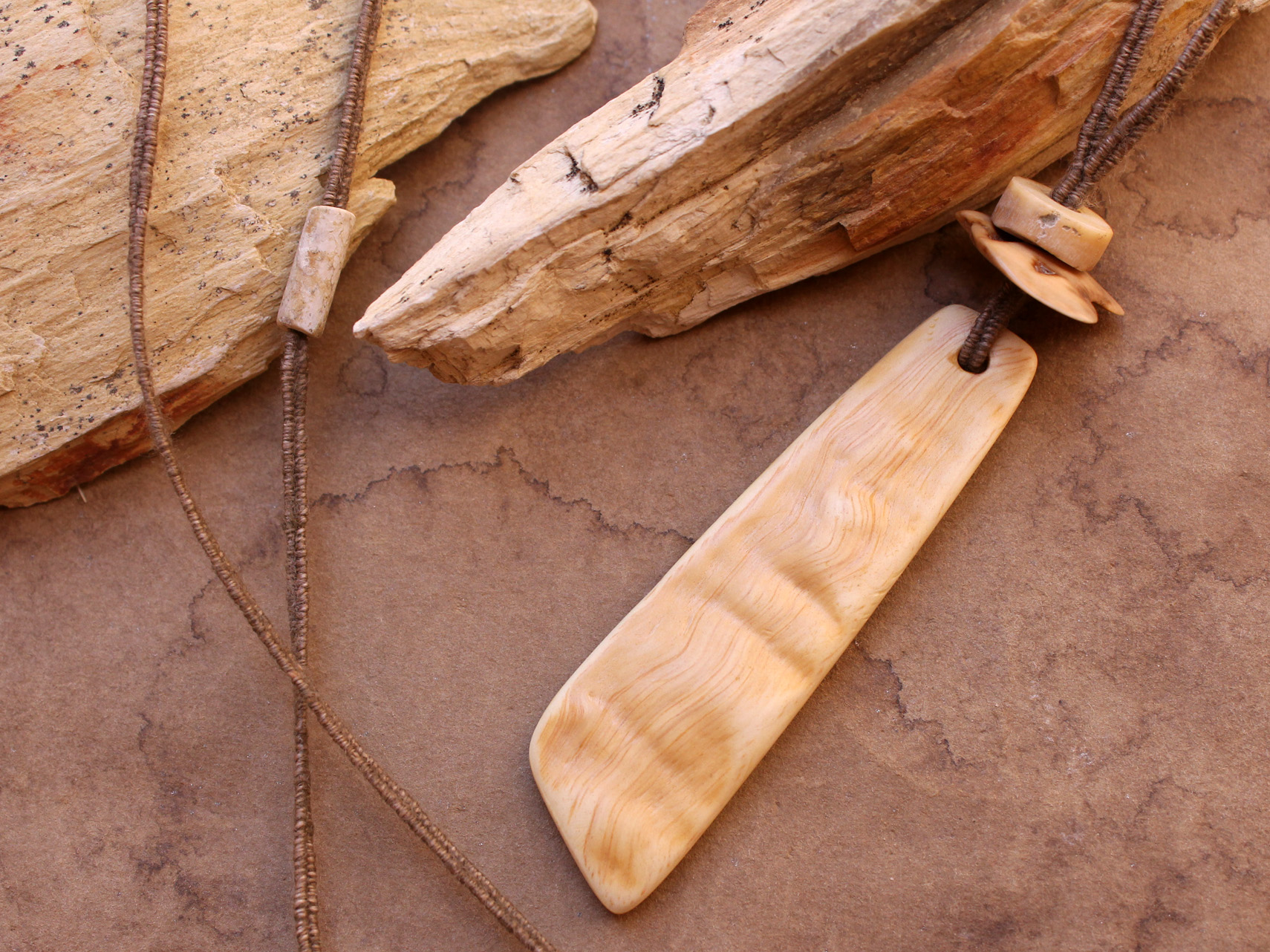 sold out
Lightning Struck Wood Talisman + Handwoven Linen Cord + Ancient Beads + Transformation + Storm Energy
A rare and unusual talisman made of Douglas Fir wood struck by lightning
:: Transformation ::
About a year ago I paid a long-overdue visit to my friends Hazel and Ron in Evergreen, Colorado. At 8000 feet, their mountain home is surrounded by conifer forest and I very much enjoyed the change of scenery. Around lunchtime one day while I was standing by the back door watching a fierce little storm blow in, a bolt of lightning struck a large Douglas Fir not 35 feet away. Dozens of long, thin strips of wood peeled off and then slowly cascaded to the ground all around the house, although, remarkably, the house itself was untouched. Once the storm had passed we went outside to investigate, and I gathered several strips of the wood and took them back home with me to New Mexico, where they have been seasoning in the high desert climate for the past year.
Wood that has been hit by lightning is a potent talisman in many cultures. Some believe objects that have been hit by lightning are protection against it, while others feel that these things carry the powerfully transformative energy of lightning itself. I tend to feel the latter is true, and so this talisman necklace is all about the qualities of transformation.
This pendant is made from an interestingly rippled strip of wood that has a beautiful texture. The outside of the piece is preserved almost intact on one side of the pendant, which you can see in the third photo. I don't know what caused the wood to grow like this, but we thought it looked like the fir tree had been struck by lightning once before, and this section had grown over the scar. Or it may be that this piece of wood was distorted--almost melted, it looks like--by the lightning bolt itself. At any rate, I was going to make it the front of the pendant until I sanded away the backside and saw the beautiful grain that was revealed. That then became the front, but you can wear it either side out.
I sanded the wood down to a very smooth, satiny surface, and buffed it, all by hand much in the same way that I do my prehistoric replication technique pieces. I sealed it with a bit of butcher block conditioner, a combination of food-grade oils and waxes, and buffed it again. It feels wonderful!
This was woven onto a linen cord using fine linen thread. This is my favorite cord weaving material and it will soften deliciously as you wear it. Since the wood pendant is light as a feather I added some weight to the cord with ancient beads. At the juncture just above the wood is a polished chip of ancient walrus ivory from St. Lawrence Island, Alaska. Above it is a large Pre-Columbian shell bead from South America, with three more smaller ones in a stack on one side of the cord. The tube beads are also shell, but much older: they come from the ancient Indus Valley culture in South Asia and are between 6,000-7,000 years old!
A beautiful and organic piece, timeless and elegant, this is also a talisman of power and transformation. If you are in the midst of sudden change or if there are things in your life that you are ready to change but are feeling stuck, this would be a potent ally on the journey as it carries the "medicine" of lightning.
SIZE: The wood pendant measures 2 7/8" x 3/4" x 1/4". The necklace measures 20 1/4" from the back of your neck to the bottom of the pendant when worn.
CARE: The linen cord can be washed but I would not soak it for long at all because of the fragile old shell beads. Use room temperature water and a very mild detergent like Eucalan if it should become soiled or discolored from wear. If the wood pendant looks like it is drying out, you can rub a little oil into it as well, avoiding the linen cord. Butcher block conditioner is fine, or a bit of vegetable or mineral oil. Allow it to soak in for 20 minutes and then wipe any excess away with a paper towel.
PRESENTATION: This necklace will come to you beautifully giftwrapped. See the shop policies below for details.
++ Shipping is included in the price ++
HAVE A QUESTION? Click on the shop policies link below for more information. Feel free to contact me if you don't see the answer there.