Prehistoric Talisman Necklace + Fossils + Paleolithic Cave Bear Tooth + Ancient Mayan and Pre-Columbian Beads + Primitive Tribal Style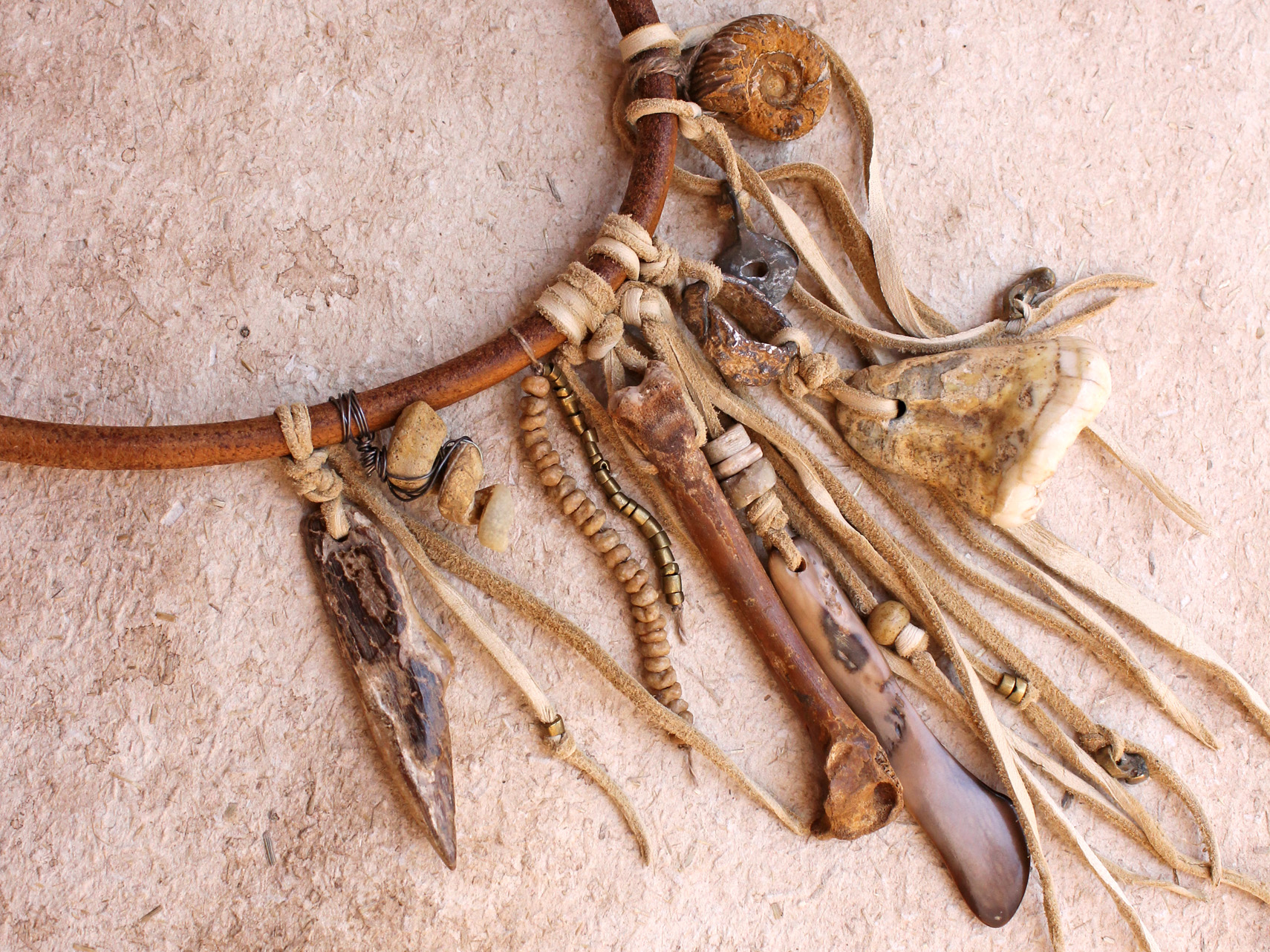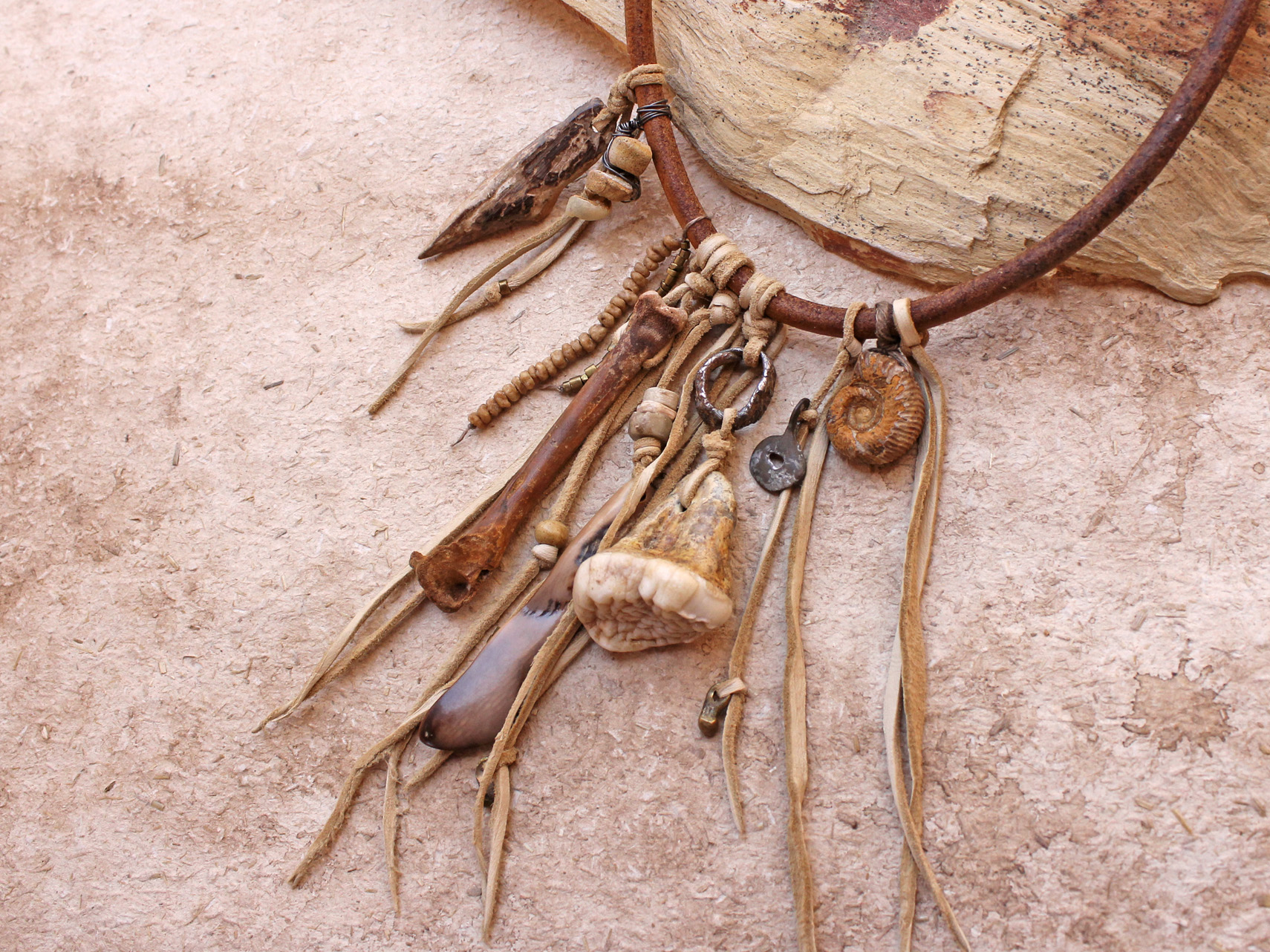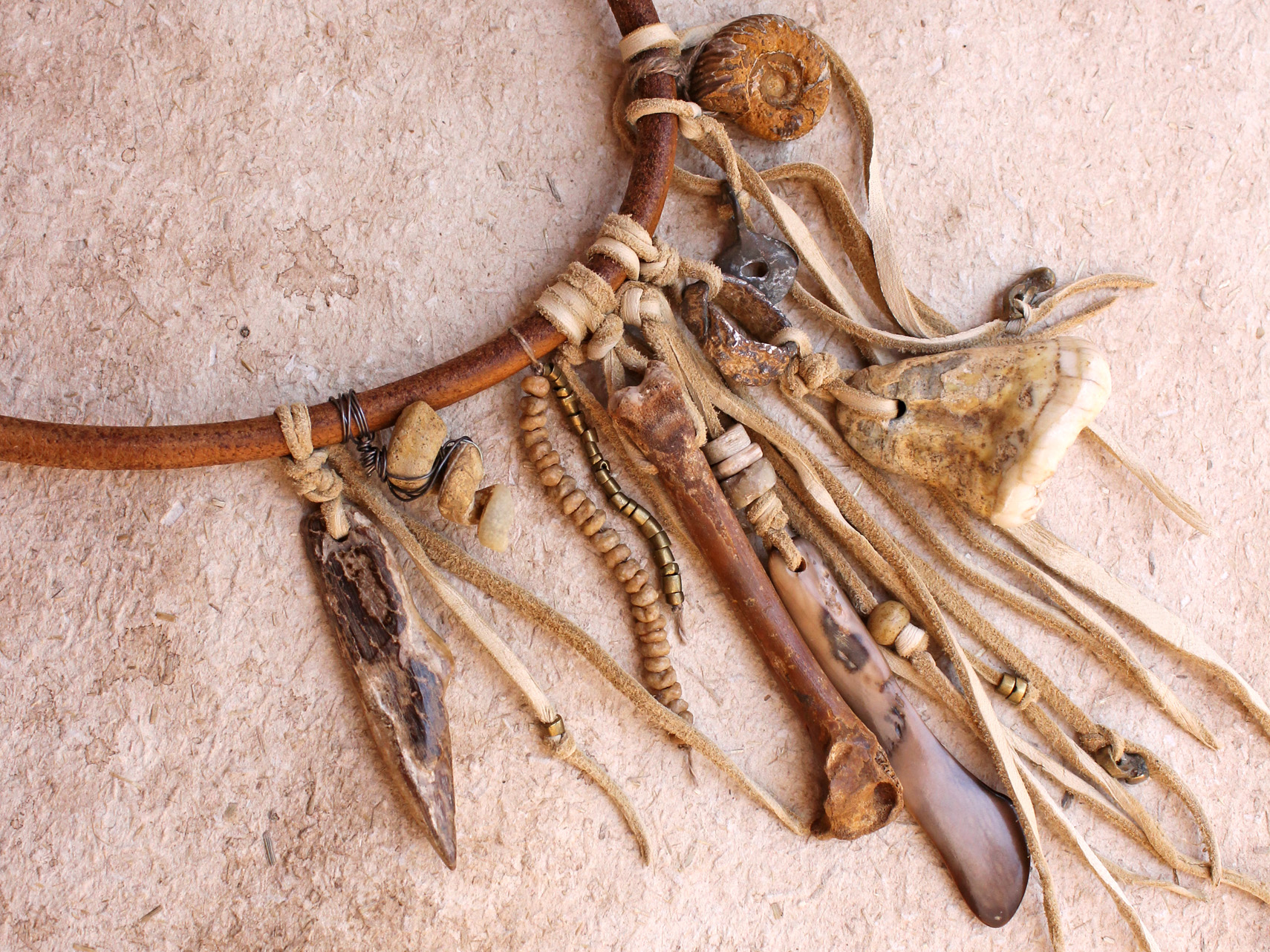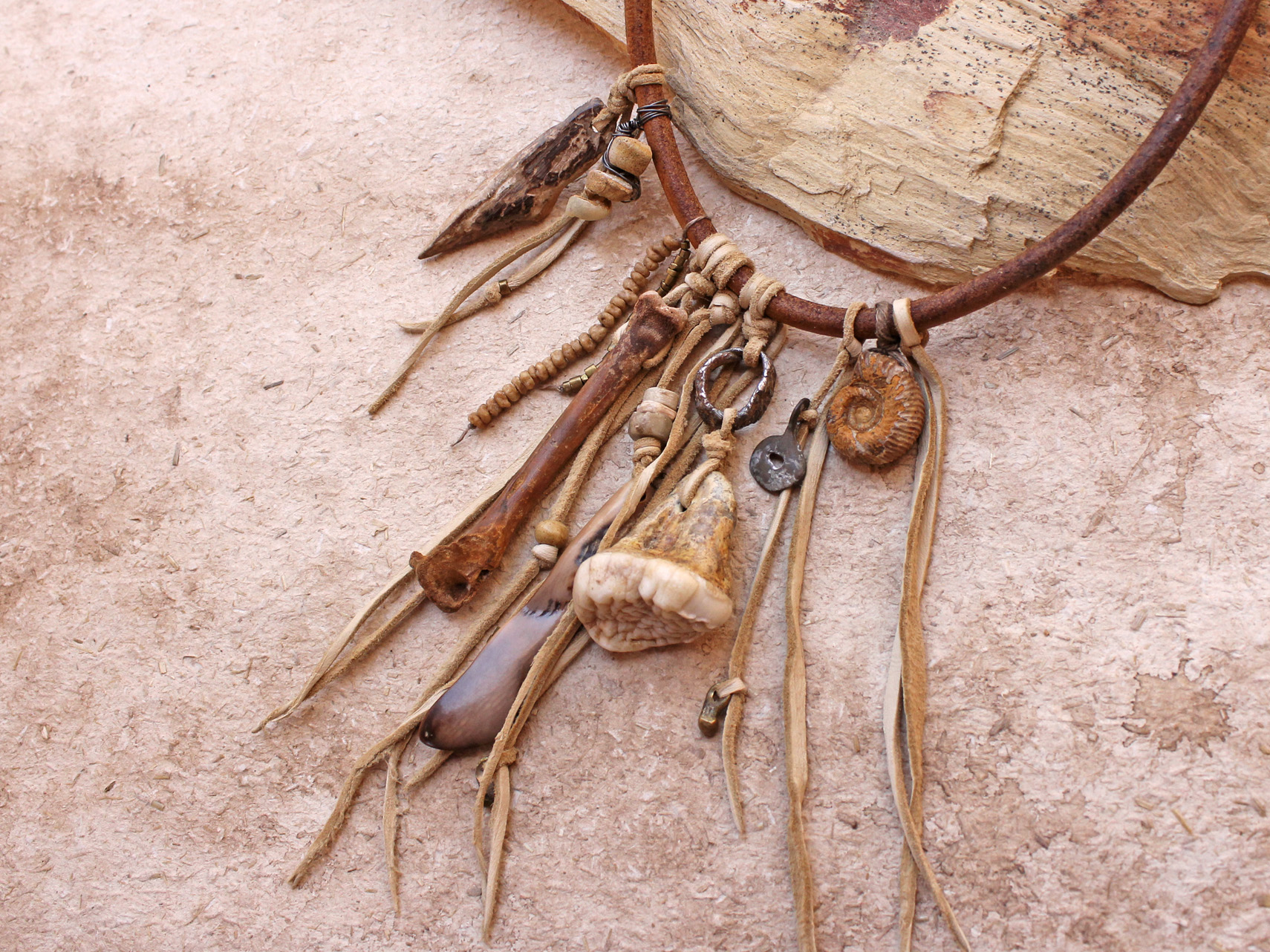 sold out
Prehistoric Talisman Necklace + Fossils + Paleolithic Cave Bear Tooth + Ancient Mayan and Pre-Columbian Beads + Primitive Tribal Style
Like a shaman's necklace from the Paleolithic…
:: Paleolithic ::
A remarkable assortment of ancient talismans, suspended from a heavy leather cord; a fierce, wild piece that remembers our roots and then goes further back into deep time. Dramatic, yet comfortable to wear, you will want to hang this on your wall as a display piece when you are not wearing it.
I have pulled out all the stops for this one, using several treasures that I've been saving for just this sort of piece. The centerpiece is a very large cave bear molar (Ursus spelaeus) which was found in a cave in Romania. These enormous creatures went extinct about 27,500 years ago. It is tied to a primitive fine silver metal clay ring with deerhide; I created the ring onsite, high atop a granite outcrop surrounded by saguaros in the Tucson Mountains. The extraordinary patina is dark and organic, with just a bit of brightened silver around the edges.
Also from the Ice Age is a mineralized jackrabbit bone from Florida, hollow, with a delicate chime. Next to it is a polished fragment of ancient walrus ivory from St. Lawrence Island, Alaska, with another unpolished fragment on the far left. There are two fossil shells, an ammonite which I believe to be from Morocco, and a delicate spiraling shell lashed to the leather cord with sterling silver "fiber". Strands of African myrrh tears and vintage brass beads from Orissa, India hang next to it.
Above the polished ivory piece is a stack of three beads, a post-Classic period Mayan stone bead and two Pre-Columbian shell beads from South America. Also tied onto the leather strips are more vintage Orissa brass, a verdigris copper amulet from Mykonos, a bone mala bead, and brass "Igbo bugs" from Africa. Most of these talismans are attached with buff deerhide or fine spun natural linen from Eastern Europe. The leather cord fastens with a heavy sterling S hook, hammered on desert rock, with sterling silver terminals.
SIZE: The cord is 18 1/2" long, with the elements and fringe hanging 5 3/4" below it.
CARE: Handle with care as the ancient teeth, bones and fossils are fragile. Do not immerse this piece in water. Clean with a soft, damp cloth if necessary. The leather cord can be conditioned with a commercial leather conditioner.
PRESENTATION: This necklace will come to you beautifully giftwrapped in a large earth-friendly and recycled gift box. Please see the Shop Policies below for details.
++ Shipping is included in the price ++ Shipping with insurance to Canada and Australia is available for an extra charge ++
HAVE A QUESTION? Click on the shop policies link below for more information. Feel free to contact me if you don't see the answer there.