Primitive Sonoran Desert Talisman Necklace + Rustic Stone + Quartz + Solar + Tribal + Prehistoric + Fossil + Dawn Wilson + OOAK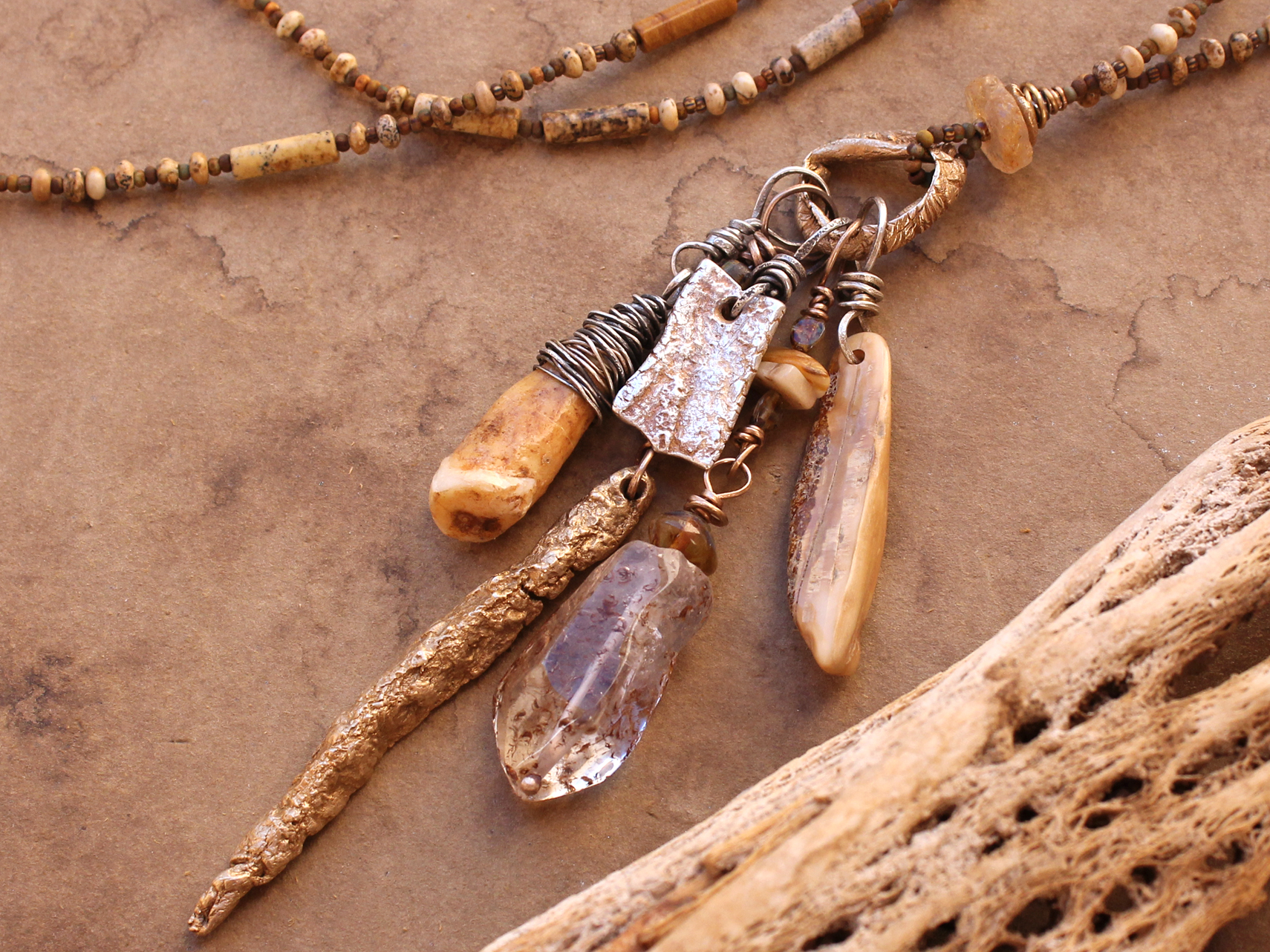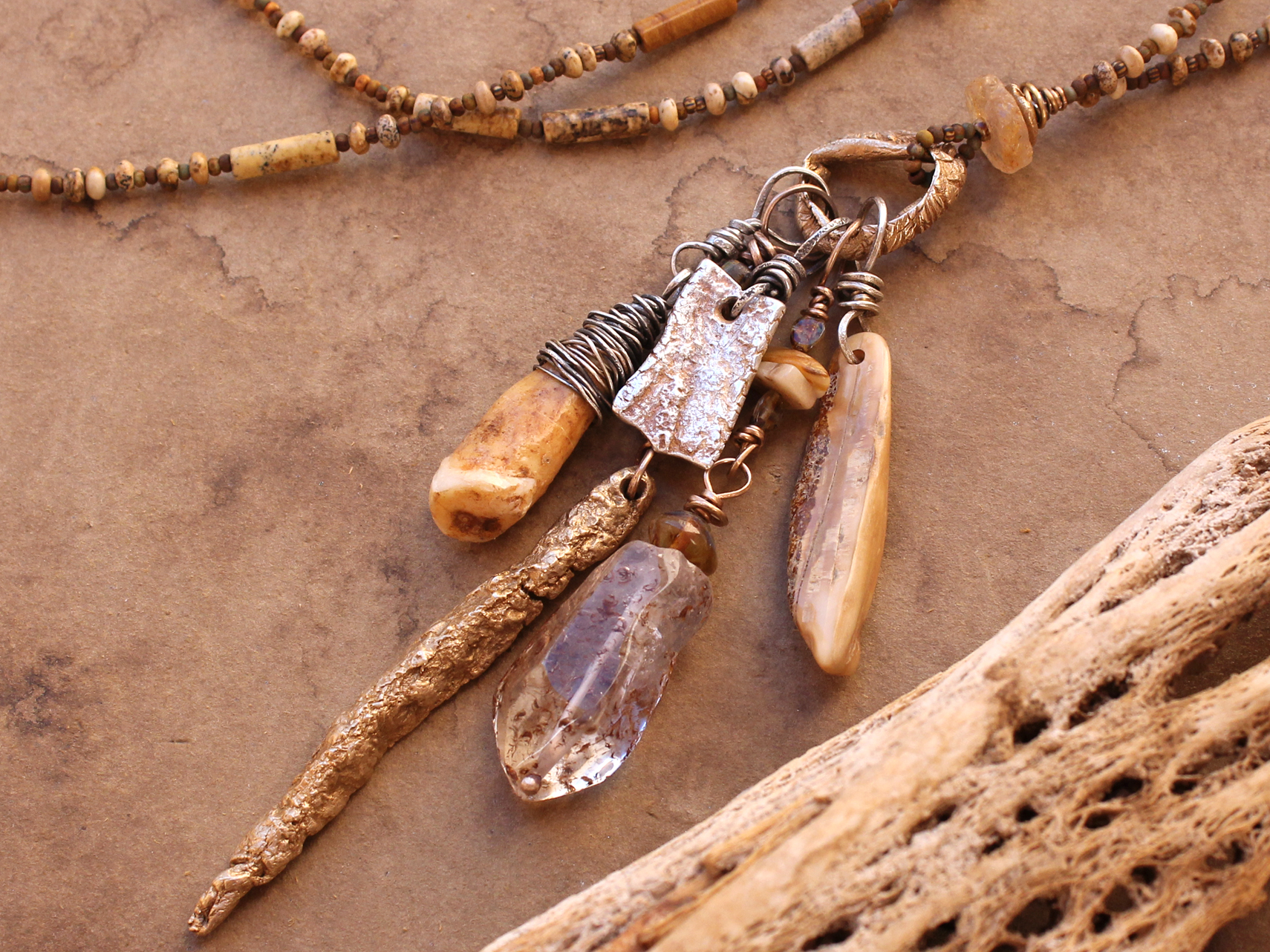 Primitive Sonoran Desert Talisman Necklace + Rustic Stone + Quartz + Solar + Tribal + Prehistoric + Fossil + Dawn Wilson + OOAK
Two Sonoran Desert stone impressions created onsite combine with polished quartz and prehistoric tusk and teeth…a powerful, graceful talisman necklace
:: Sun's Path ::
+++ Contains Ancient Alaskan Walrus Ivory: For US Domestic Sale Only +++
Earlier this year I was down in the Sonoran Desert, walking the bajada near a massive granite outcropping known as Elephant Head. I had my metal clays with me and the granite boulders scattered about caught my attention. I impressed pieces of silver clay directly onto one, and the small silver amulet seen here is the result. Later, at Saguaro National Park West surrounded by the giant cacti, I climbed a high boulder outcrop and impressed bronze clay into the rougher granite surface there. Back at home I fired these fingerprints of the landscape, and carefully oxidized and hand-finished them.
These were combined with elements from further afield on a bronze ring bail which itself was impressed with a yucca fiber quid. Quids are the wadded remnant material that is the unused portion of the leaves after the fibers are extracted; they are great firestarters and have been found in prehistoric sites across the Southwest. A nice polished crystal point hangs on links with petrified palm wood and Czech glass. A fragment of ancient walrus ivory from St. Lawrence Island, Alaska hangs next to it. On the opposite side of the cluster, a Paleolithic cave bear's tooth from Romania has been wrapped in sterling silver. Everything is on hammered and hand finished bronze or sterling silver links.
The strand of beads is picture jasper in tubes, small rondelles and two larger barrels with tiny, matte, Picasso finish Czech glass seed beads as spacers. What a lovely stone this jasper is! I love the way it looks. At the juncture is an excavated quartz disc from Africa and one of my bronze discs that was impressed on weathered juniper wood found near the Dillard site Basketmaker village in SW Colorado.
It's a beautiful and primitive piece, very much the essential sun-on-stone, eternal feeling of desert places. Pieces like this link you to the deep past and the eternal NOW all at once. With all the picture jasper, it's nicely grounding as well.
SIZE: 19" from the back of your neck to the end of the talisman bundle when worn. The talisman bundle with its ring bail is 5 1/2" long and the total length of the picture jasper strand is 27".
CARE: Rinse briefly in cool water without soap to clean. Do not soak. Gently blot dry with a soft towel. The metal elements will mellow over time. If you would like to brighten them, gently buff with a dry kitchen scrubbing pad to bring out the high spots.
PRESENTATION: This necklace will come to you beautifully giftwrapped. See the shop policies below for details.
++ Shipping with insurance is included in the price ++
HAVE A QUESTION? Click on the shop policies link below for more information. Feel free to contact me if you don't see the answer there.