Spirit Beads Necklace + Prayer Beads + Meditation, Contemplation, Present Moment, Mindfulness + Ancient and Antique Beads + Shell Currency + Peace and Tranquility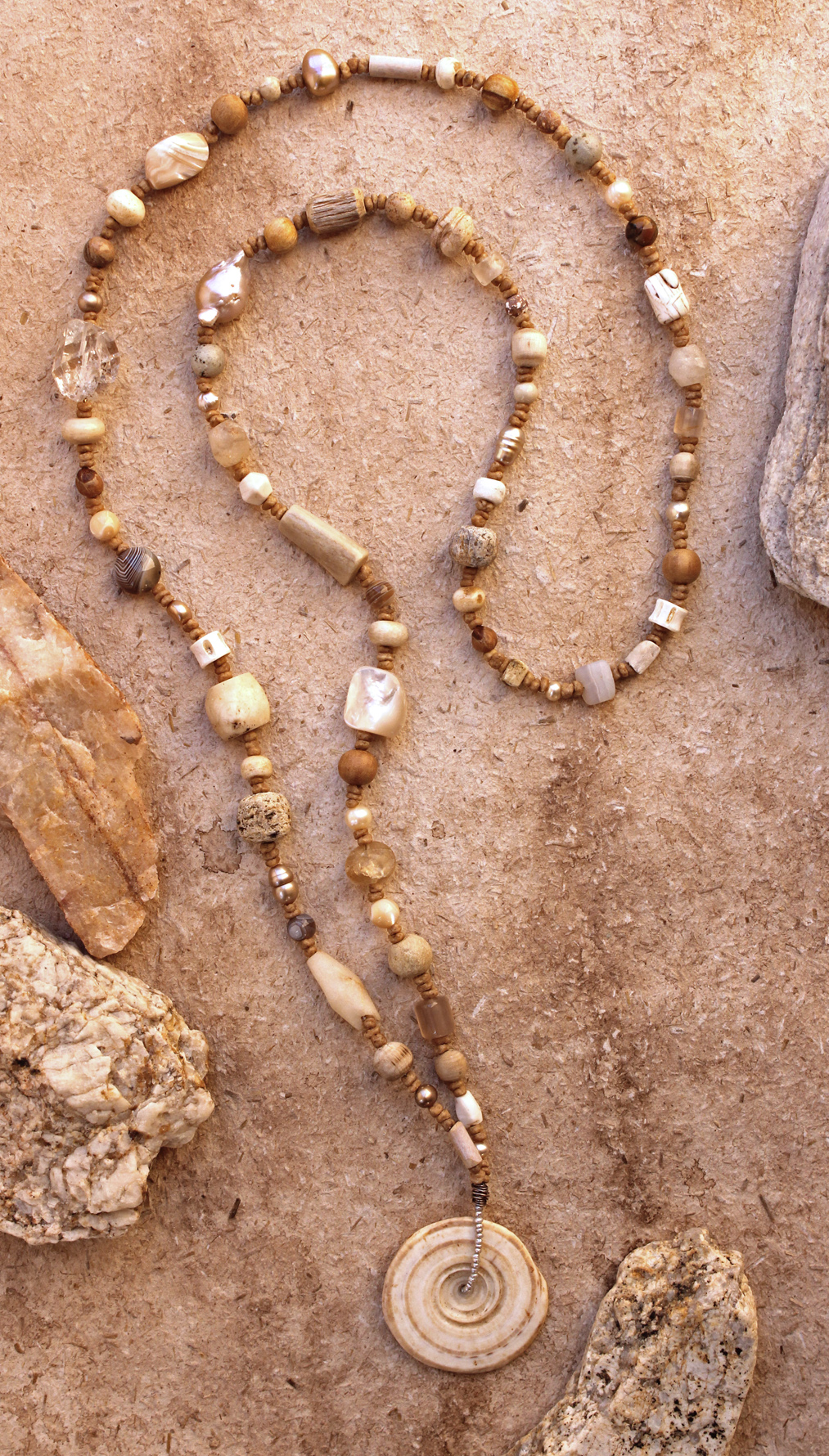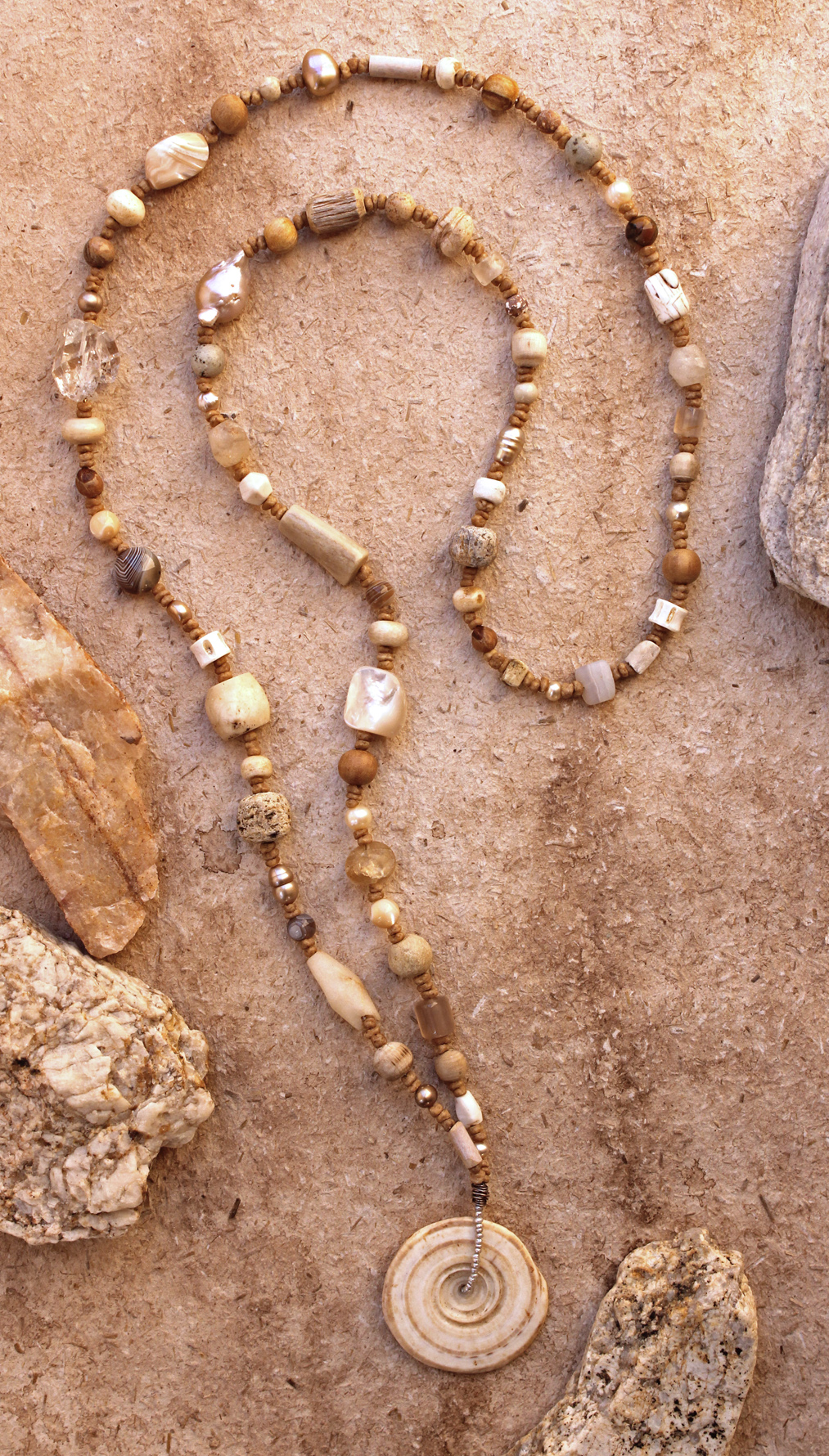 sold out
Spirit Beads Necklace + Prayer Beads + Meditation, Contemplation, Present Moment, Mindfulness + Ancient and Antique Beads + Shell Currency + Peace and Tranquility
A set of Spirit Beads for meditation and prayer, created as a beautiful necklace with many ancient and unusual beads.
:: Timeless ::
:: This necklace contains fossil walrus ivory and is for sale within the United States only ::
I don't often make Spirit Beads as necklaces; more often they are done as open-ended pieces because I prefer the symbolism of the open ends...but this necklace, which is a closed circuit with a large amulet, turned out so beautifully, I think I would like to make more. The theme is timelessness, and our experience of the passage of time. There are many ancient beads on it--some are thousands of years old--and antique beads, vintage beads and contemporary. If I could have figured out how to put beads from the future on it, they would be there too!
About Spirit Beads:
I have been making Spirit Beads for over a decade now, and they remain one of my favorite things to do...in fact, making them has evolved into a major meditation practice in itself for me. These strands are created for prayer, meditation, ceremony, and present-moment mindfulness practice. You're invited to enter into a living relationship with them, one which will become richer and deeper over time. They're made to give you something physical to touch and hold as a reminder of the presence of Spirit in daily life...everywhere, and in everything. I tend to use mine for centering, to calm me and still my mind, and connect to places that are sacred to me. What I love about Spirit Beads is that you are free to create your own way of using them, any way you choose. This set is a necklace, a closed circle that enables you to travel around it as you would a mala or rosary, with a large talisman that serves as a punctuation or anchor to the round. I will include an information sheet with these beads that will give you some suggestions as to how to use them.

These Spirit Beads can be worn as a necklace but are mainly intended to be held in the hand as you pray or meditate. They also look lovely kept on your home altar, coffee table, nightstand, or even hung on the wall...anyplace where they will invite you to pick them up, and easily come to hand. I have several sets of Spirit Beads and keep them on my mannequin or on the walls so I can always see them. They help bless and energize my workspace and home.
The Components:
The amulet will be familiar to those who follow my work: a large piece of antique tribal shell currency from New Guinea, called kwalia. I chose this one for its well-defined spiral and for the way it feels in the hand, since it was for Spirit Beads. It hangs on a loop of tiny seed pearls.
Likewise, all of the other beads were chosen for how they feel as much as for how they look and their symbolism, since Spirit Beads function on many levels. They include a number of ancient shell and quartz beads from South-Central Asia. Some may have been made in India and traded to other regions. There are two smaller tubes of off-white shell from the Indus Valley that are extremely ancient, dating from 4,000-5,000 BCE...6,000-7,000 years old, in other words. One is right next to the kwalia and the other is high up on the same side. These come from a well-known and established dealer in Santa Fe whom I have known and done business with for years.
With these is a Himalayan quartz crystal, deer's antler, conch shell imitating boar's tusk from Africa, fossil stegodon bone from Java, South India Holy Basil (or tulsi) mala beads, a rare large baroque saltwater pearl, Arizona saguaro cactus rib, various jaspers, fish vertebrae, mother-of-pearl, fossil walrus ivory, Indian sandalwood mala beads, juniper seed Navajo Ghost Beads, freshwater pearl, Botswana agate, Palo Santo wood from Peru, and more.
The small, irregular spacer beads along the strand are unusual: these are tiny "tears" of sacred myrrh resin from Africa. Beads made from aromatic substances have been prized there for centuries, and women wear long necklaces made of many strands of this myrrh. Although it is a gum resin that comes from a desert shrub, I have found it to be durable (probably about the hardness of low-fired clay) and that it retains its fragrance indefinitely. I acquired these beads from an African dealer back in the 80s, and when warmed in the sun or on your skin they still exude a subtle, spicy fragrance. Myrrh has many spiritual and healing properties...I recommend that you look it up. It is an ancient incense and medicine that goes back at least to the time of the ancient Egyptians and probably much farther.
The strand was strung on durable Beadalon 49-strand beading wire (stainless steel fibers coated with nylon), and wherever possible I lined beads with larger holes with glass seed beads to help them sit better on the strand. This protects the beads and improves the lifetime of the piece, and also improves the way the strand feels when it is worn and held in the hand.
SIZE: The necklace measures 22 1/4", or 57cm, from the back of your neck to the bottom of the shell currency when worn.
CARE: Handle these ancient beads gently, with the care and respect they deserve...they have traveled a long way through time. Do not immerse in water. To clean, wipe gently with a soft, damp cloth.
PRESENTATION: These Spirit Beads will come to you beautifully giftwrapped. See my shop policies below for details.
++ Shipping is included in the price. ++
HAVE A QUESTION? Click on the shop policies link below for more information. Feel free to contact me if you don't see the answer there