Sun Temple Talisman + Statement Necklace + Stacked Cairn Pendant + Handwoven + Ancient Ivory Beads + Rustic + Desert Primitive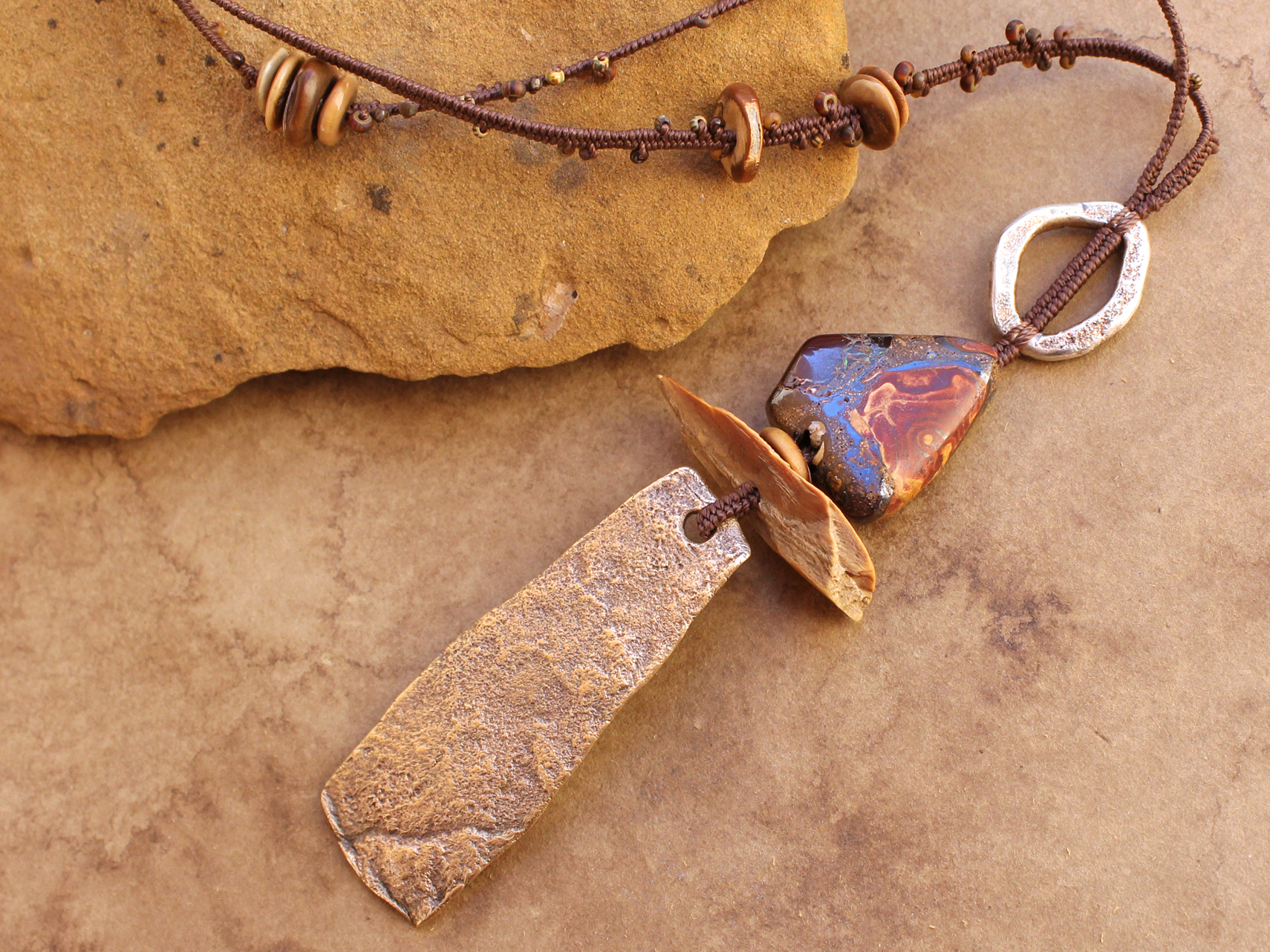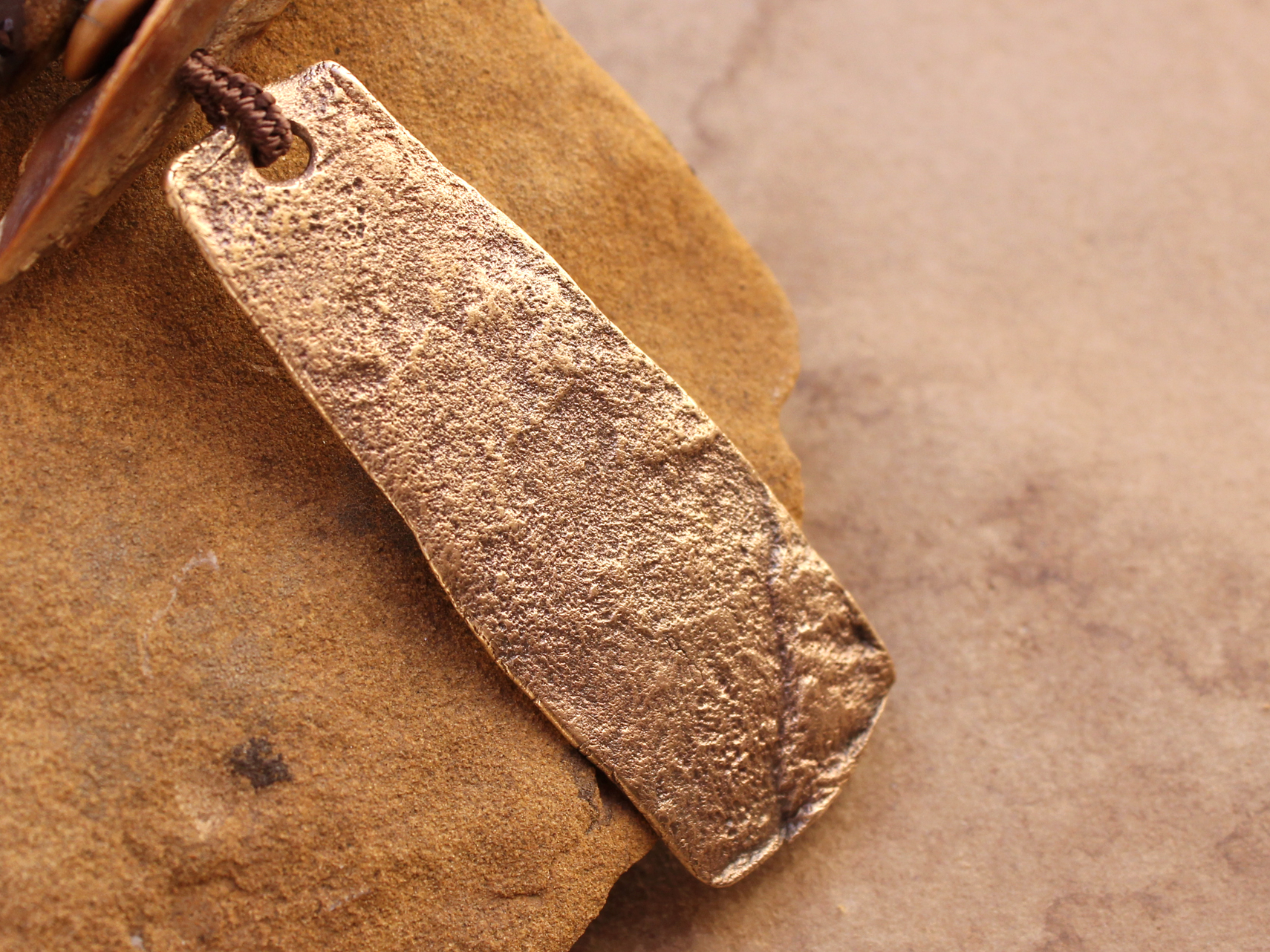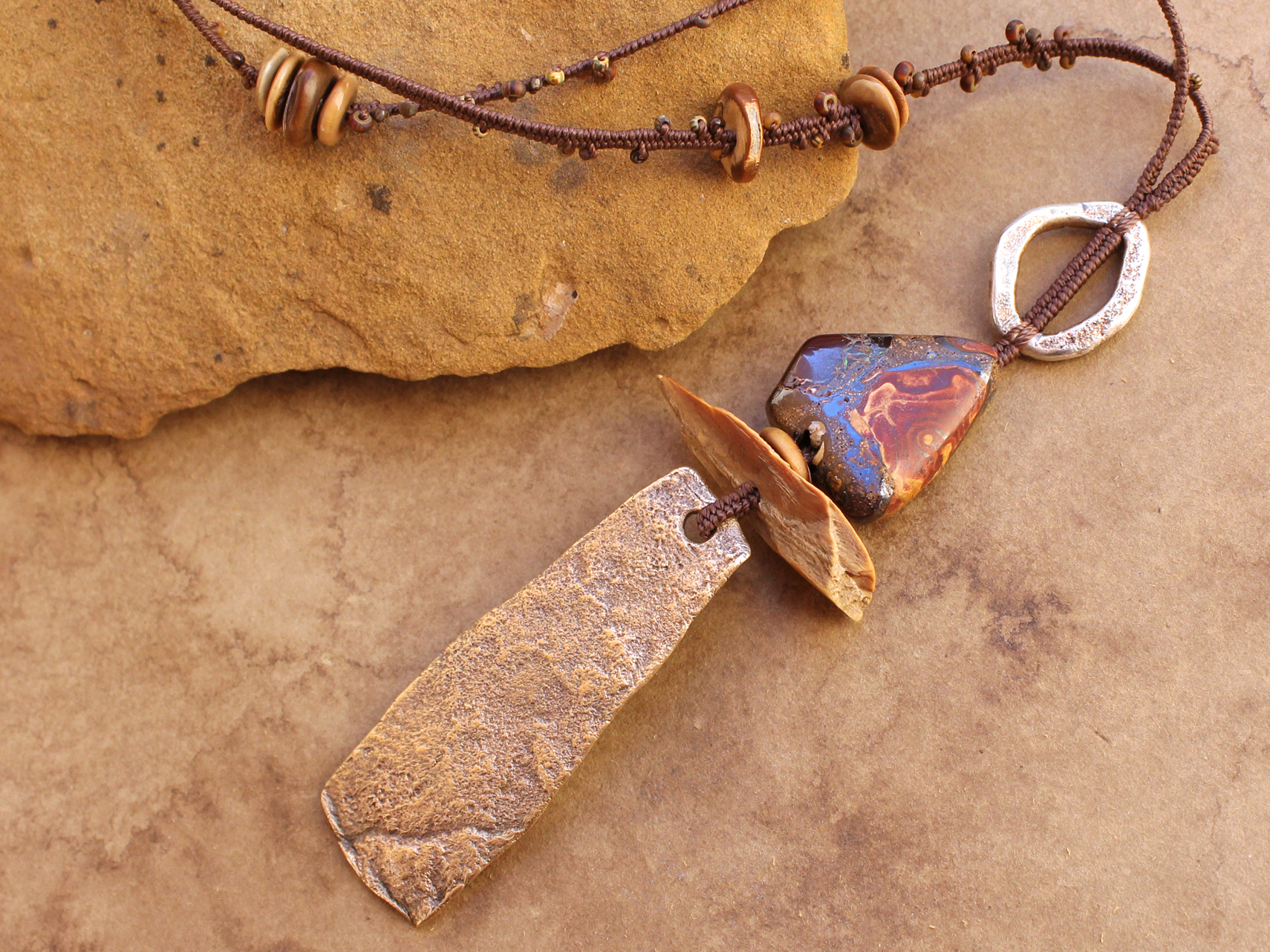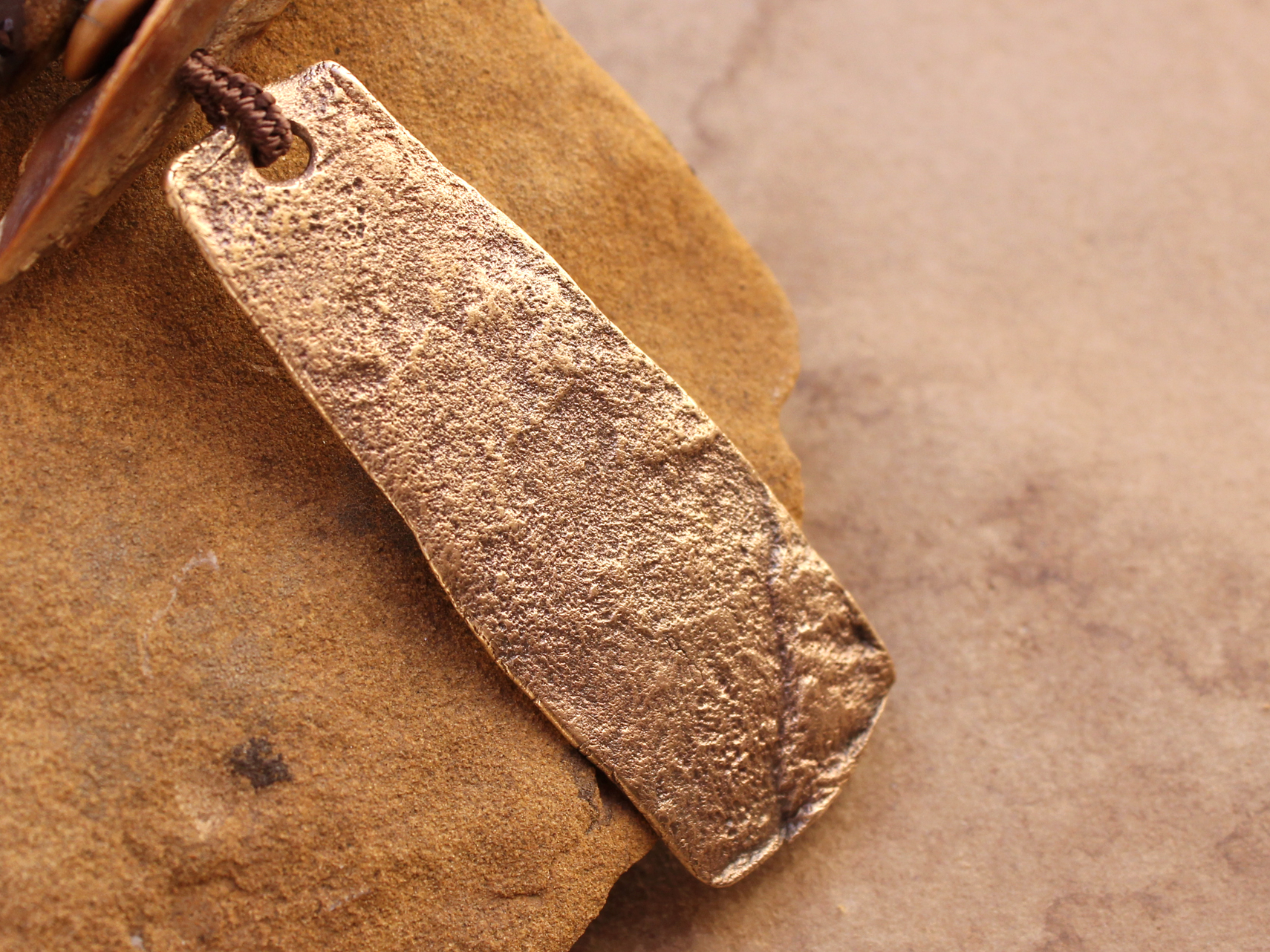 sold out
Sun Temple Talisman + Statement Necklace + Stacked Cairn Pendant + Handwoven + Ancient Ivory Beads + Rustic + Desert Primitive
A bold and striking pendant of stacked elements set on a beaded handwoven cord in my signature style
:: Sun Temple ::
+++ Contains Ancient Alaskan Walrus Ivory: For US Domestic Sale Only +++
Sun Temple is a mysterious Ancestral Pueblo (Anasazi) ruin at the epicenter of Mesa Verde. This stunningly beautiful site is often eclipsed by Cliff Palace, which can be seen from there, but I find the energy at Sun Temple to be the most powerful. It appears to have been a place devoted to ceremony with its unusual D-shaped double walled exterior surrounding twin kivas within. No doors are in the walls; entry was apparently via ladders through the roof only. This dramatic cairn necklace celebrates that sacred place.
A large bronze pendant anchors the elements. Made from bronze metal clay, it was impressed directly on a stone near the ruin. The texture of the golden Cliff House sandstone translated perfectly into the bronze, creating a fingerprint of that place. Above the bronze is a very beautiful shard of raw ancient ivory from St. Lawrence Island, Alaska, with a smaller ivory bead above it. Resting on it is a very elemental looking bead made from Australian koroit opal by Gary Wilson. This powerful stone has slender veins of precious opal running through a striking ironstone matrix. Above it is a fused fine silver ring, textured by hammering the metal on desert rock.
The combined elements have a strong, totemic appearance and sing a song of wild beauty. Each of them was woven individually onto a cord of chocolate brown nylon. As the cord winds upward, I wove in tiny matte Picasso finish Czech seed beads in subtle but rich colors. From a distance these read more as texture than color, like seeds or pods along a yucca stem. Punctuating them are stacks of ancient walrus ivory beads in the soft brown patina only hundreds of years can bestow.
Since this is a slightly shorter necklace than most of my handwoven pieces, I have joined the ends of the cords with a simple oval clasp of hammered sterling silver, which itself provides a decorative element at the back of the neck.
A strong talisman, speaking of the sacred sites and wild beauty of the far mesas in autumn.
SIZE: 17 1/2 from the back of your neck to the end of the stacked pendant when worn. The pendant assemblage is 1 1/2" x 5".
CARE: Rinse briefly in cool water without soap to clean. Do not soak. Gently blot dry with a soft towel. The metal elements will mellow over time. If you would like to brighten them, gently buff with a dry kitchen scrubbing pad, carefully avoiding the nylon cord, to bring out the high spots. The cord can be washed with mild detergent if necessary.
PRESENTATION: This necklace will come to you beautifully giftwrapped. See the shop policies below for details.
++ Shipping with insurance is included in the price ++
HAVE A QUESTION? Click on the shop policies link below for more information. Feel free to contact me if you don't see the answer there.