Primitive Raw Amber Chunk on Hand Stitched Deer Hide Cord + Baltic Butterscotch Amber + Wabi Sabi + Rustic + Prehistoric + Fossil + Stone Texture Silver Bead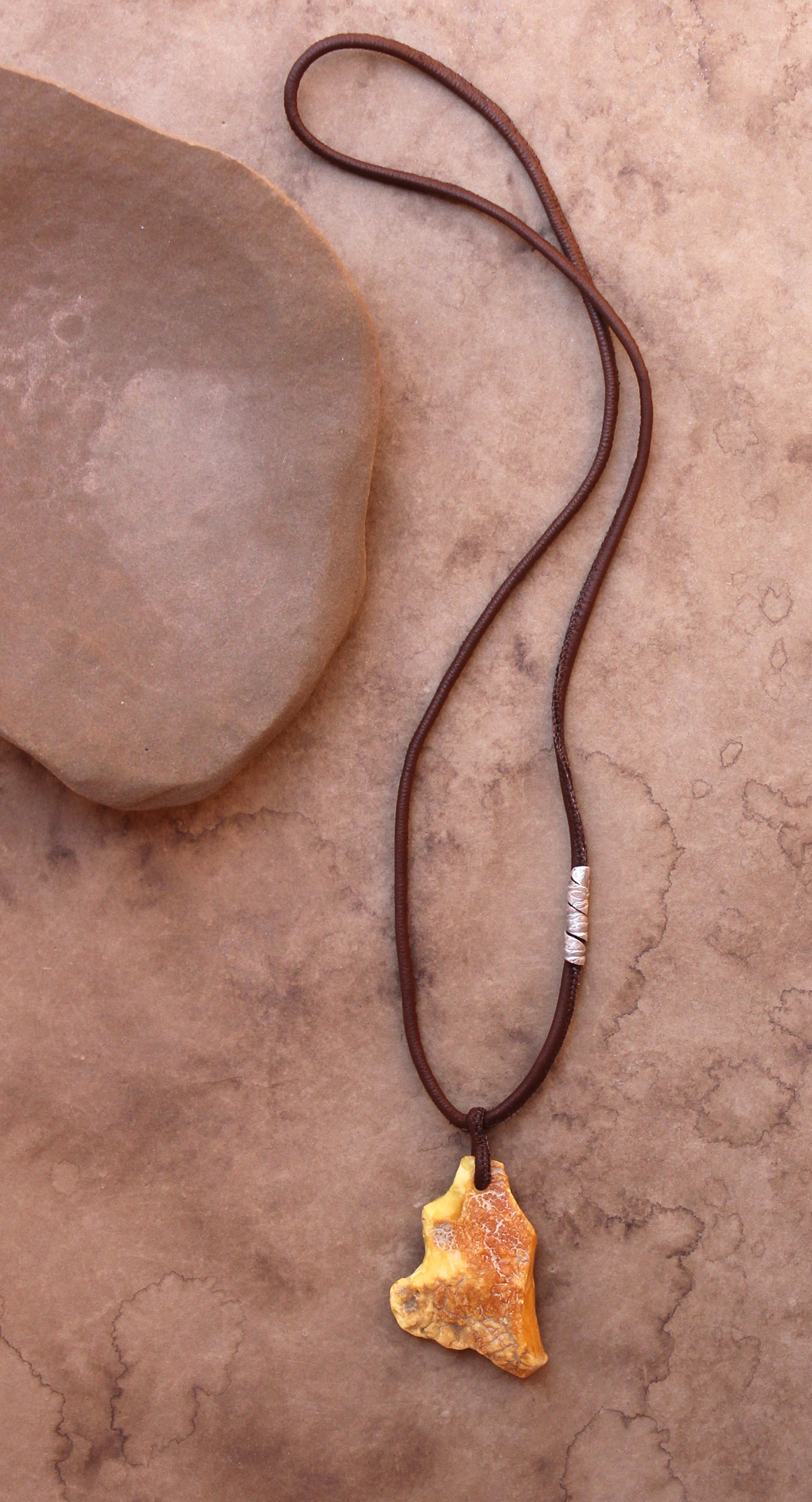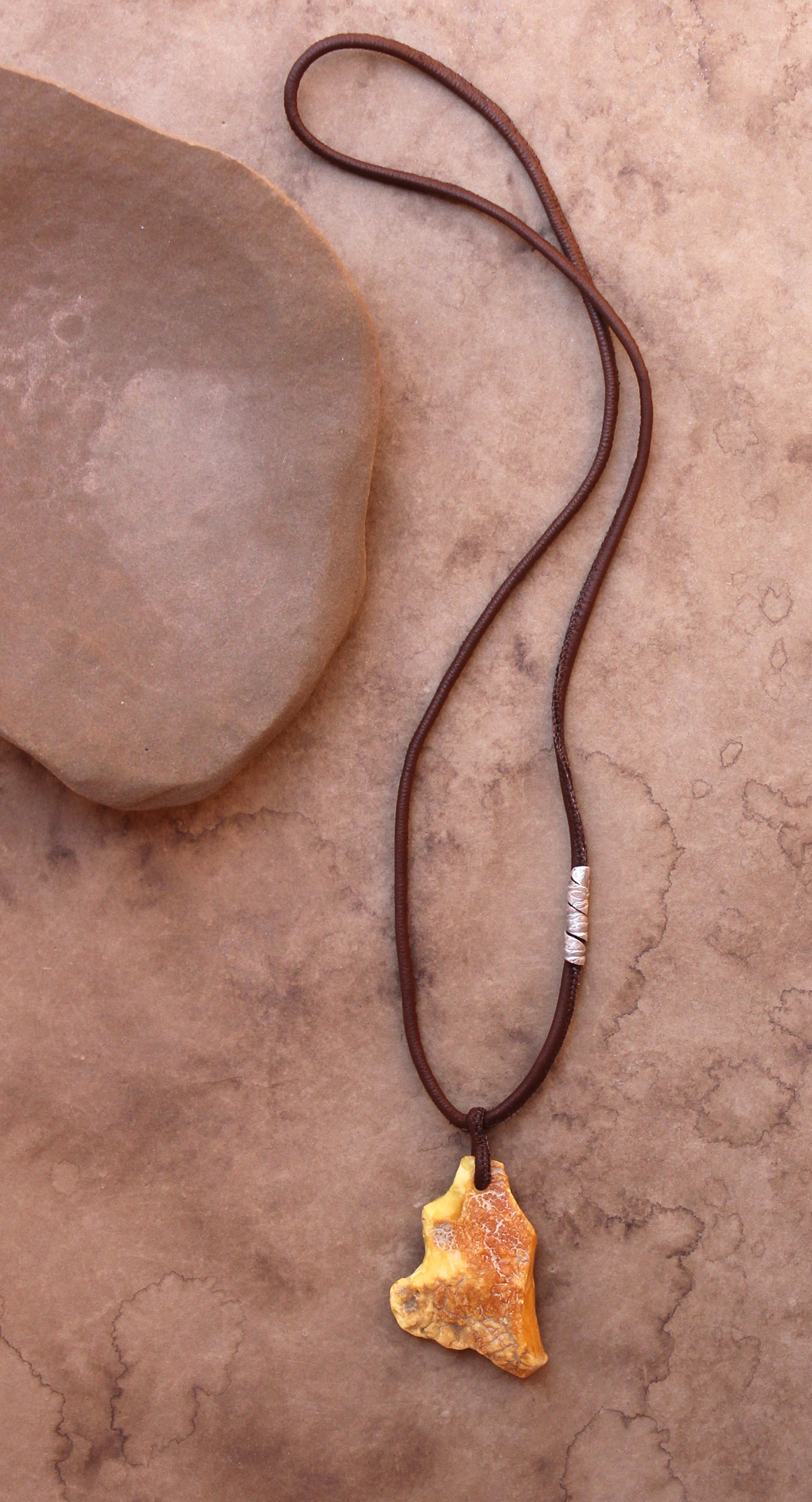 sold out
Primitive Raw Amber Chunk on Hand Stitched Deer Hide Cord + Baltic Butterscotch Amber + Wabi Sabi + Rustic + Prehistoric + Fossil + Stone Texture Silver Bead
A magnificent, huge chunk of raw amber suspended from hand stitched deerhide
:: The Light of Long-Forgotten Days ::
For this necklace, a spectacular and unusual piece of raw Baltic amber has been transformed truly primal and sculptural pendant. This 40 million year old fossilized resin comes mainly from the eastern shore of the Baltic Sea; it is believed that evergreen trees which lived during the Eocene epoch produced the sap which became amber. When amber is found washed up on beaches or excavated from the ground it is in raw form and often the surface is heavily weathered, as in this piece. Most often this rough exterior is ground away as undesirable when the amber is processed, but I find that the surface is fascinating and beautiful in its own right. At some point this piece was broken along the edges, revealing the opaque sunflower and butter gold of the amber within.
Amber has been treasured as a talisman by the people of Northern Europe for thousands of years and is associated with the sun. Numerous beads, ornaments and carved figures, including goddesses, have been found in Paleolithic and Neolithic sites. More recent myths echo the ancient relationship with amber. In one tradition it was once believed that on the night of winter solstice the Lithuanian and Latvian goddess of the sun, Saule, flew through the sky in a sleigh pulled by reindeer and threw pebbles of amber representing the sun into chimneys. Energetically, amber is warming to the soul and calms scattered energies.
I have brought this amber to the desert and given it a home on a meticulously hand stitched cord of chocolate brown deerhide. It takes many hours to sew these cords but the result is durable and very beautiful, the subtle variation of the tiny stitches providing a quiet rhythm and texture. A single spiraling bead of fine silver adorns one side, made from precious metal clay and molded from stone found in the desert of central New Mexico. This bead can slide on the cord, and you can position it anywhere you like.
A bold, primal piece celebrating the sun and its life-giving warmth. Absolutely lightweight and comfortable.
SIZE: 17" from the back of your neck to the bottom of the amber piece when worn. The amber measures 2 1/2" x 1 1/2" x 1/2".
CARE: Wipe with a soft, damp cloth to clean. The silver bead can be brightened with a jeweler's polishing cloth; be careful to avoid the leather. The deer hide can be conditioned with a commercial leather conditioner if necessary. Do not wash.
PRESENTATION: This necklace will come to you beautifully giftwrapped in a hand decorated gift box. See the shop policies below for details.
++ Shipping is included in the price ++
HAVE A QUESTION? Click on the shop policies link below for more information. Feel free to contact me if you don't see the answer there.