Vintage Ethnographic Shell Button Pendant + Lunar Talisman Necklace + Baroque Freshwater Pearls, Antique Metal Beads, Yoruba Granulated Brass + Handmade Fine Silver Disc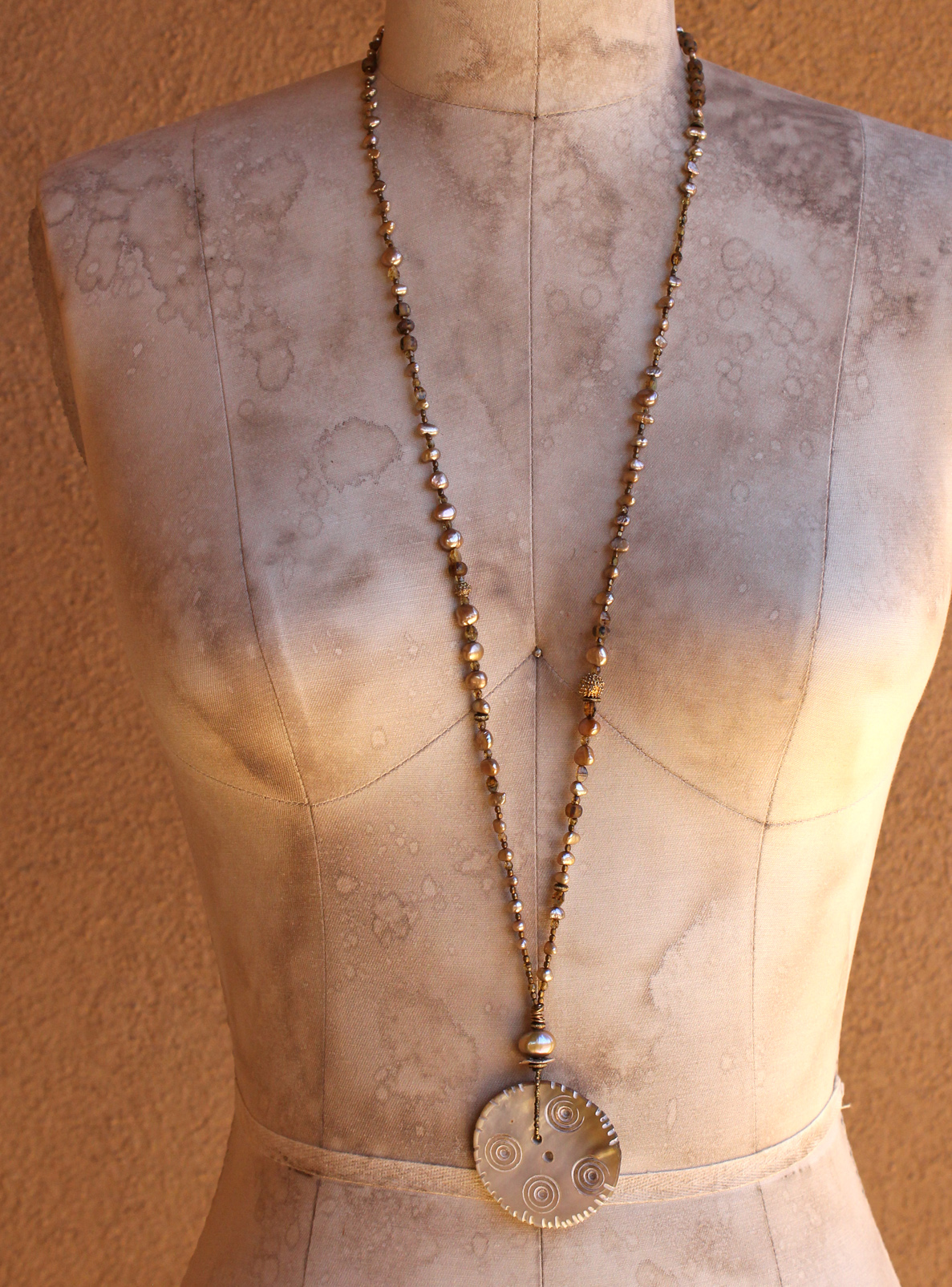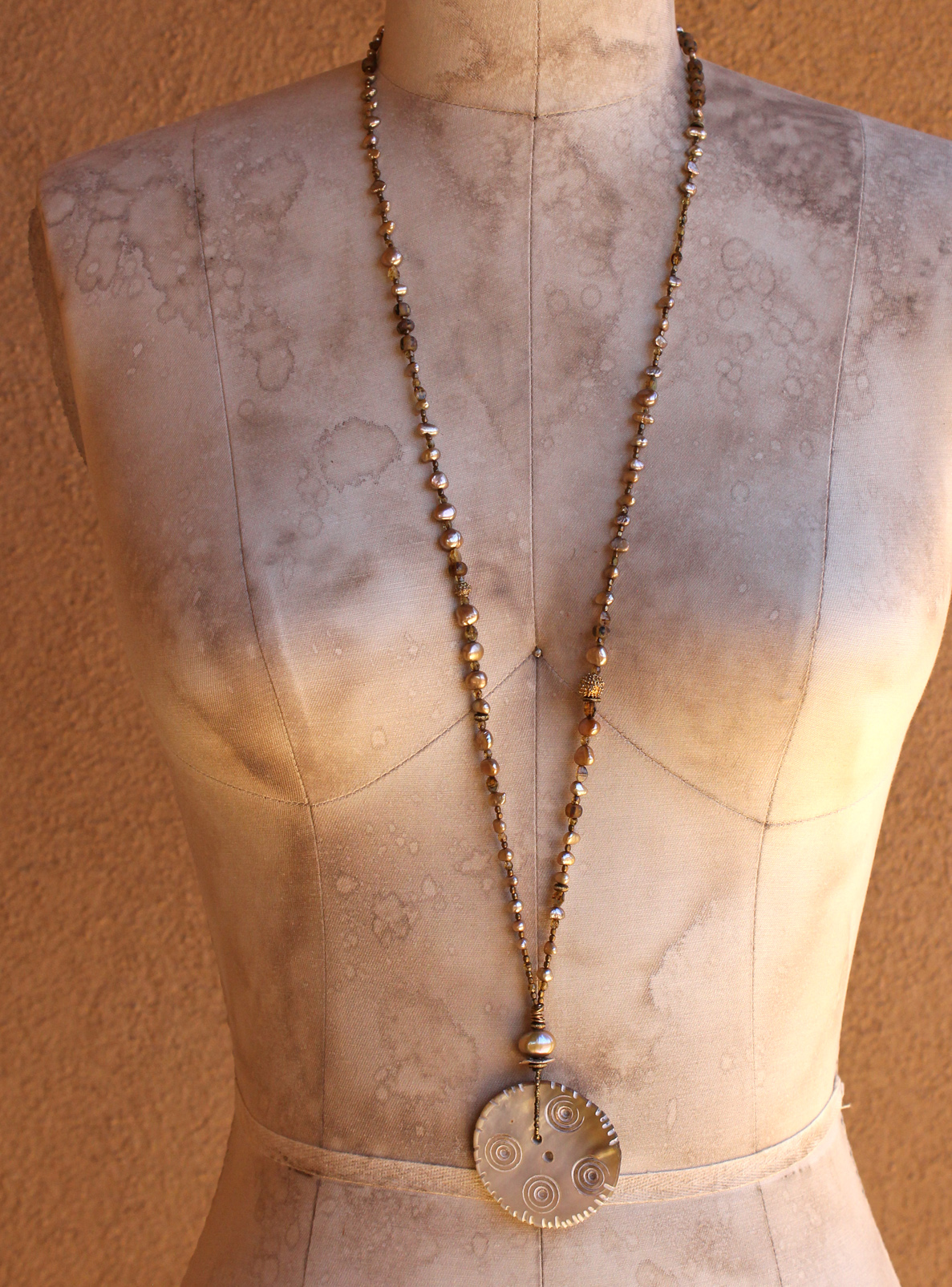 Vintage Ethnographic Shell Button Pendant + Lunar Talisman Necklace + Baroque Freshwater Pearls, Antique Metal Beads, Yoruba Granulated Brass + Handmade Fine Silver Disc
A luminous old shell button from the highlands of Central Asia graces this necklace with its gentle presence...a cooling synergy of pearls, brass, shell and antiqued brass for hot summer days
:: As Cool As the Moon ::
I seem to be drawn to circular and spiraling pendants these days...symbols of eternity and wholeness. This beautiful vintage mother-of-pearl button comes from the village of Gilgit in the remote Swat Valley of Northern Pakistan. Also known as Tany, these buttons have been made for centuries and sewn to women's dresses and other traditional clothing. Even though their soft, cooling glow evokes the moon, I have a hunch that these buttons are solar talismans that have their roots in ancient shamanic traditions, but have not been able to substantiate this. Like all other reflective materials, mother-of-pearl was most likely used in this context as a ward against negative influences such as the evil eye. These buttons are growing scarce and the older ones especially are to be treasured.
I have combined this Tany with a luscious assortment of baroque freshwater pearls, carefully chosen to match the subtle iridescence of the shell. They progress along the strand in a random sequence along with Czech glass, India brass barrels, brushed brass discs and granulated, gold-washed African Yoruba brass. The pearls shine alongside the earthen hues of larger matte Picasso finish Czech glass beads and the antique brass barrel spacers. The Tany is suspended on a loop of antique French steel cut beads that have an aged bronze patina. At the juncture just above the pendant is a large pearl and a little fine silver PMC disc I made myself; it was textured by impressing it with an Anasazi corrugated potsherd. A wrap of oxidized brass is above the pearl and the beads were strung on professional grade beading wire for flexibility, strength and durability.
SIZE: The necklace measures 20 3/4"", or 53.5 cm, from the back of your neck to the bottom of the pendant when worn. The Tany is 2" or 51 mm wide.
CARE: The entire necklace can be rinsed in cool water to clean. Take care with pearls as exposure to various body care products can damage their shine-but natural skin oils will enhance their glow. Avoid harsh detergents when washing your necklace.
PRESENTATION: This necklace will come to you beautifully giftwrapped. See my shop policies below for details.
++ Shipping within the US is included in the price. ++
HAVE A QUESTION? Click on the shop policies link below for more information. Feel free to contact me if you don't see the answer there