Weathered Sagebrush Bronze Earrings + Basketmaker Anasazi Site + Prehistoric Desert Southwest + Wabi Sabi + Natural + Organic + Dillard Site Colorado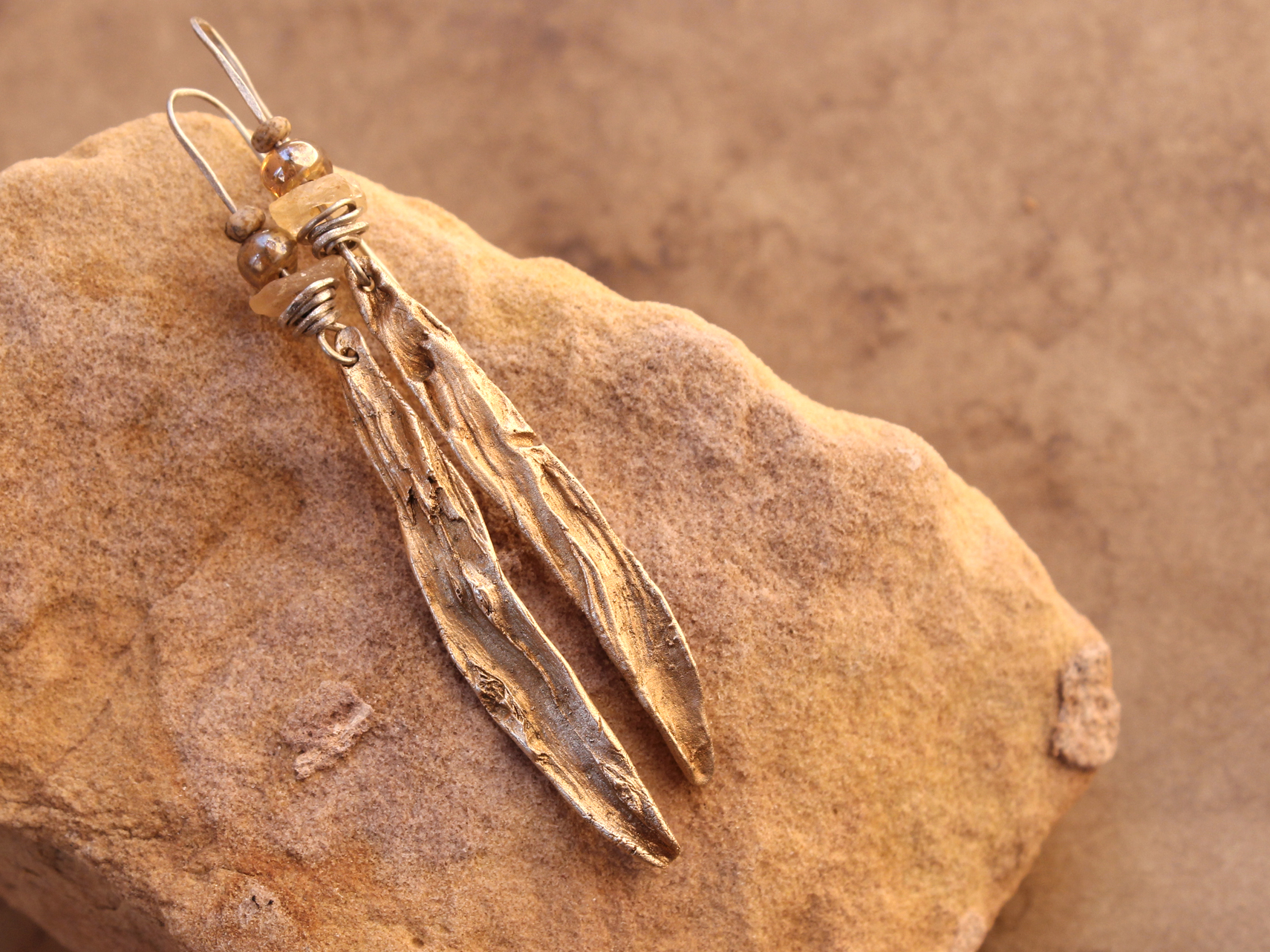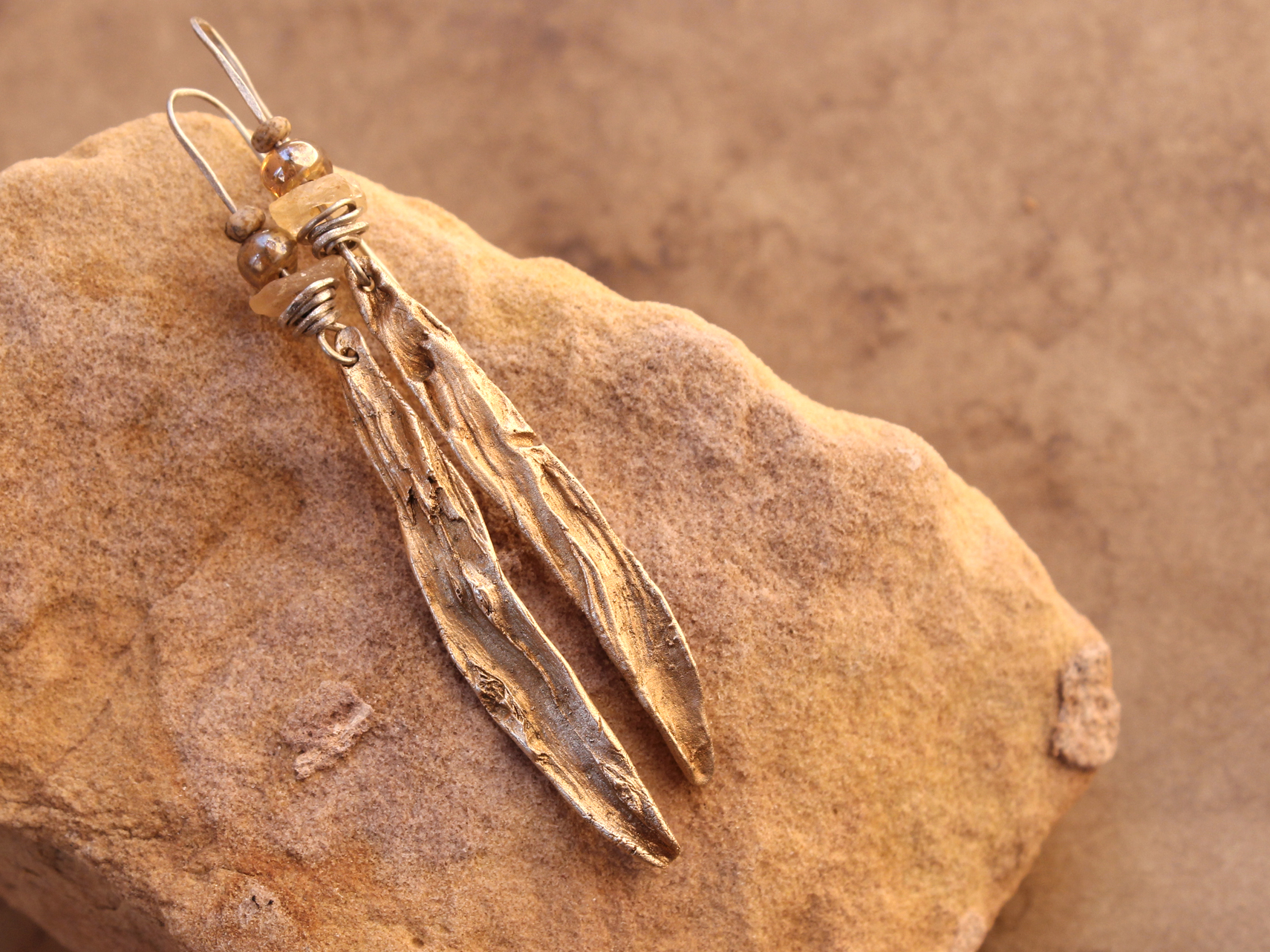 sold out
Weathered Sagebrush Bronze Earrings + Basketmaker Anasazi Site + Prehistoric Desert Southwest + Wabi Sabi + Natural + Organic + Dillard Site Colorado
Sinuous, undulating forms in bronze, impressed with weathered sage from the Dillard Site Basketmaker village in southwestern Colorado
:: Where They Were ::
Situated on the vast Great Sage Plain northwest of Mesa Verde, the Dillard site dates to about 570 AD. A few years ago this unique Basketmaker village was painstakingly being unearthed by volunteers from nearby Crow Canyon Archaeological Center. The discovery of a great kiva in the midst of the village, the earliest known in the area, stunned everyone. I was fortunate to visit the dig as it was underway, and as I stood on the edge of this ancient ceremonial gathering place, time expanded into a vast, luminous NOW, the ancestors as close as breath.
A pair of weathered sagebrush twigs lying on the ground a short distance from the site caught my eye and I brought them home for impressions. Each of these bronze clay pendants were impressed on one of the twigs. The lines of the sagebrush have a sinuous, uncompromising wildness that captures this beautiful windswept high plain beautifully, fingerprints of an ancient place reaching to us from across time. Today's Pueblo people say that time does not exist in the same way at ancestral sites, and to them the ancestors are as vivid and present as if they were still living. And so they always walk with respect and offer prayers, inviting us to do the same.
I fired the bronze pieces, lightly oxidized them, then put them through an extensive refinement and finishing process, probably going over them with various polishing papers and sponges about 12 times until they looked and felt just right. A stack of beads keeps each one company: excavated quartz discs from north Africa, glimmering Picasso finish Czech glass, and tiny picture jasper rondelles.
The sterling silver ear wires were oxidized and hammered, then hand finished for a rustic feel. They were hammered a little more just above the rondelles to keep the beads from slipping off. Their extra length ensures that they will not easily fall off.
SIZE: 3 1/2" long.
CARE: Wash in soap and water as desired. The bronze will mellow over time. If you would like to brighten it, gently buff it with a dry kitchen scrubbing pad to bring out the high spots.
PRESENTATION: These earrings will come to you beautifully giftwrapped. See the shop policies below for details.
++ Shipping with insurance is included in the price ++
HAVE A QUESTION? Click on the shop policies link below for more information. Feel free to contact me if you don't see the answer there.