RESERVED + Quiet Space Spirit Beads + Desert Earth + Primitive + Prayer Beads + Meditation, Contemplation, Present Moment, Silence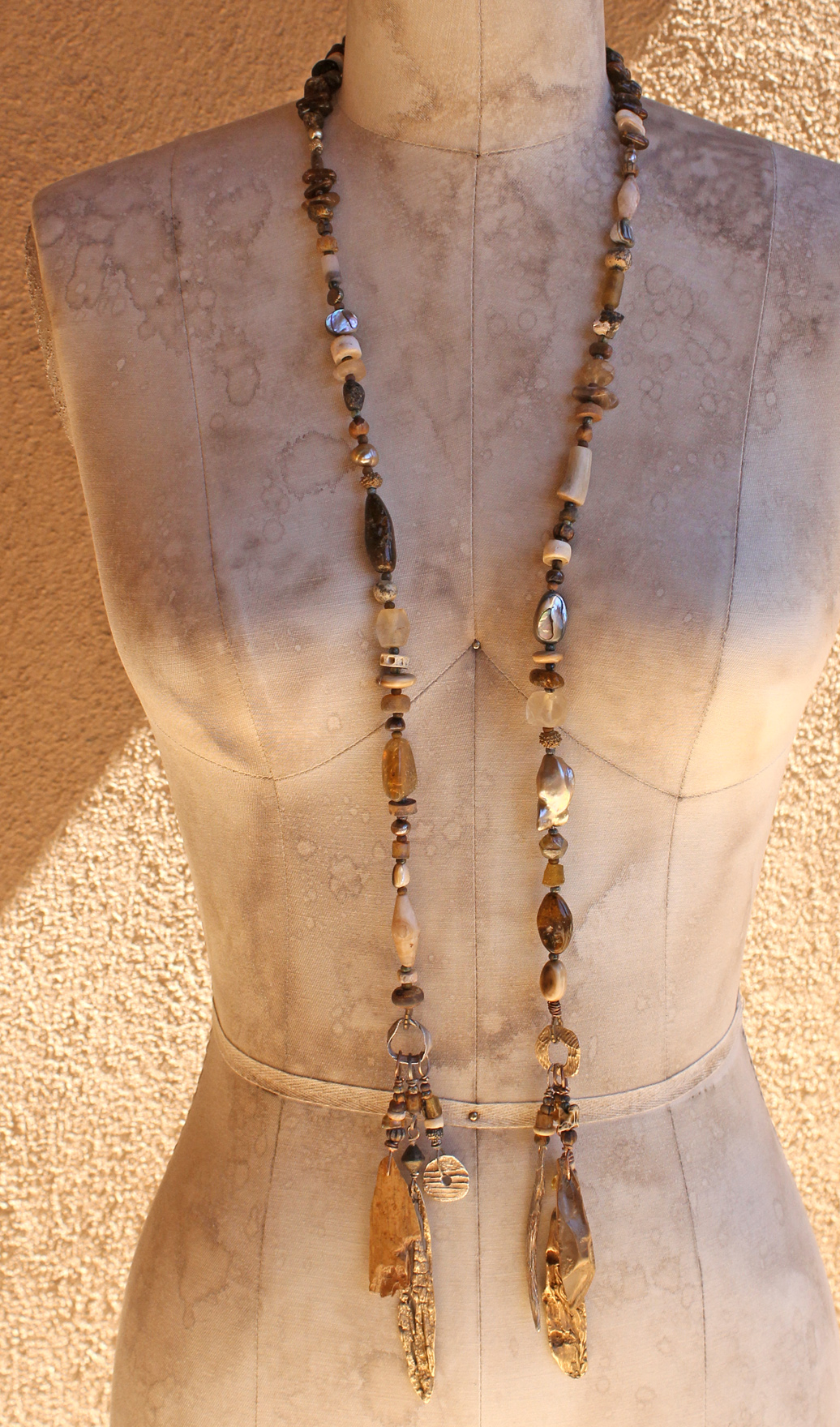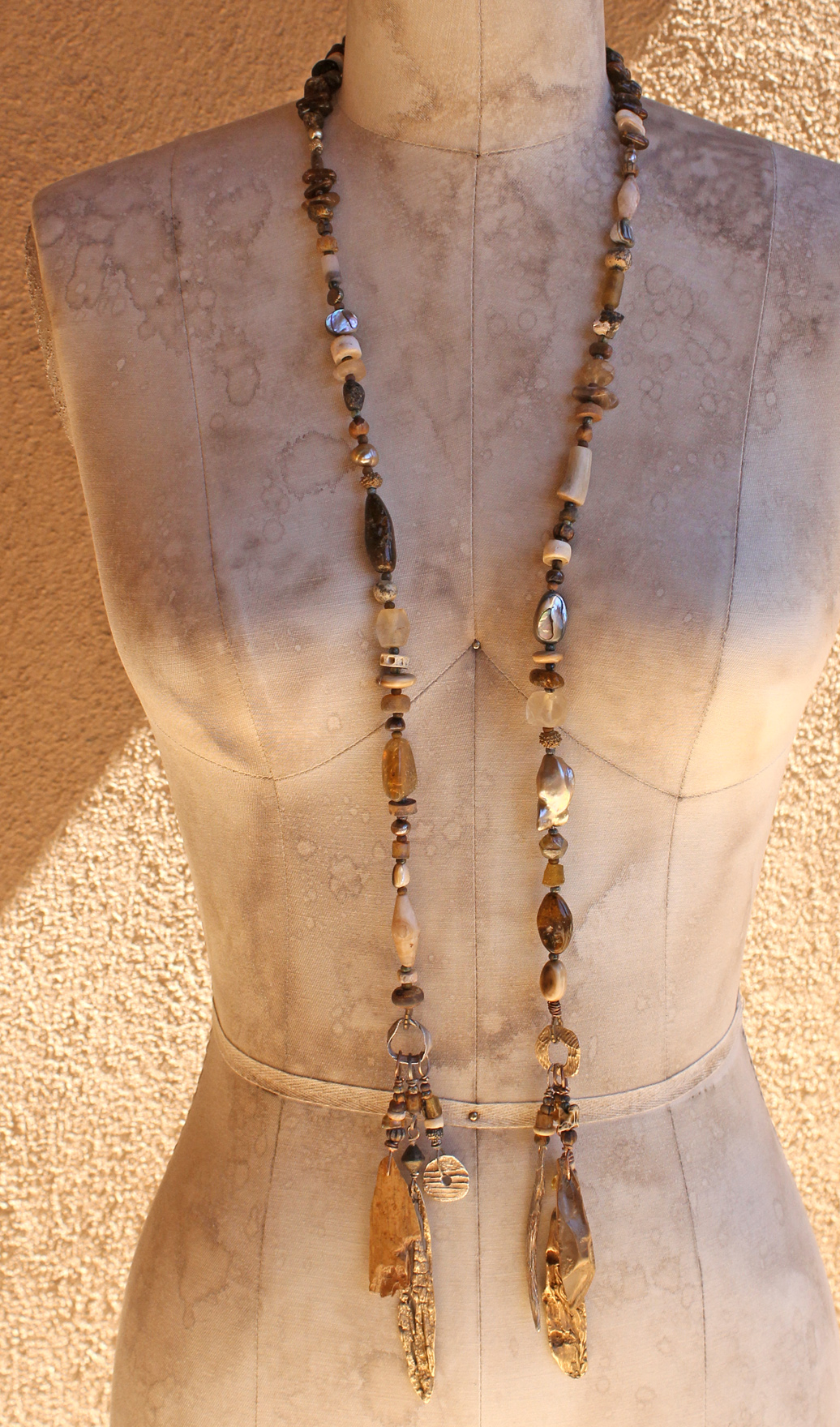 sold out
RESERVED + Quiet Space Spirit Beads + Desert Earth + Primitive + Prayer Beads + Meditation, Contemplation, Present Moment, Silence
A smaller, lighter strand of Spirit Beads that is designed for wearing...desert earth abstractions and textures to quiet the mind and soothe the soul
RESERVED :: Quiet Space :: Spirit Beads ::
A customer requested that I reserve this piece shortly after listing!
+++ Contains Fossil Mammoth and Walrus Ivory: For US Domestic Sale Only +++
This latest in my current series of Spirit Beads is a sister to my own set: smaller, more lightweight, and very primitive. They are meant to evoke the sense of enveloping, gentle stillness when one sits in a desert place surrounded by earth and sky.
About Spirit Beads:
I have been making Spirit Beads for over a decade now, and they remain one of my favorite things to do. These long hand-held strands are created for prayer, meditation, ceremony, and present-moment mindfulness practice. You're invited to enter into a living relationship with them, one which will become richer and deeper over time. They're made to give you something physical to touch and hold as a reminder of the presence of Spirit in daily life...everywhere, and in everything. I tend to use mine for centering, to calm me and still my mind, and connect to places that are sacred to me. What I love about Spirit Beads is that you are free to create your own way of using them, any way you choose. This open-ended "shawl" style was originally created by contemporary prayer bead artisan Eleanor Wiley, who has traveled the world teaching others how to make and use their own prayer beads. I will include an information sheet with this set that will give you some suggestions as to how to use them.

These Spirit Beads are meant to work both as a hand-held strand of prayer beads, and as a ceremonial necklace. They are worn in an open-ended fashion, as shown in the photo of the mannequin. They also look lovely kept on your home altar, coffee table, nightstand, or even hung on the wall...any place where they will invite you to pick them up, and easily come to hand. I have several sets of Spirit Beads and keep them on my mannequin or on the walls so I can always see them. They help bless and energize my workspace and home.
The Amulets:
My own handmade amulets are featured in this strand. The largest one is made from bronze metal clay and was molded from weathered ironwood found in the Sonoran desert west of Tucson, Arizona. The bronze pendant on the opposite end was impressed as raw clay onto a living ocotillo branch at the Kofa Mountains in western Arizona. The long, thin silver pendant is fine silver PMC, molded from a banana yucca leaf from the desert uplands near Socorro, New Mexico. And the silver PMC disc was directly impressed onto an Anasazi corrugated potsherd currently in my care. Each side also has a large fragment of fossil walrus ivory from St. Lawrence Island, Alaska.
All of the amulets are attached with bronze or sterling wire links that were hammered on desert rock and oxidized. Many beads adorn the links: Czech glass, African brass and snakebone, Pre-columbian shell, fossil ivory, and ancient Bactrian glass. The rings holding them are also my own metal clay creations: a bronze ring impressed with fossil trilobite, and a fine silver ring impressed with weathered juniper from the Dillard Site, a Basketmaker III site in SW Colorado.
The Beads:
The big smoky-gold bead is a wonderful Ethiopian opal that is subtle until you take it into the sun, where it bursts into the most marvelous color. I have saved this one for just the right piece, and this was it. Baltic black (brown) amber predominates on the strand with some raw amber beads added in. This lightens the weight, feels good in the hand, and gives the piece a soothing, comforting feel as amber calms scattered energy. There are also many baroque pearls including a very large one, which add a gentle energy of their own.
Here as well are ancient Asian quartz and agate beads, Pre-Columbian shell beads from South America, golden fragments of ancient Bactrian glass--over 2,000 years old--and an unusual Pre-Bactrian glass tube made with gold. Abalone shell, African Yoruba granulated brass, Czech glass, fossil ivory, brown tourmaline, juniper seed Navajo Ghost Beads, fossil crinoid, Arizona petrified wood, Southwestern dinosaur bone, antler, and more add to the mix. The spacers are all Czech glass.
The strand was strung on durable medium-weight beading wire (stainless steel fibers coated with nylon), and wherever possible I lined beads with larger holes with glass seed beads to help them sit better on the strand. This protects the beads and improves the lifetime of the piece, and also improves the way the strand feels when it is worn and held in the hand.
++ This set does not include a deer hide tie, but if you would like to have one, please let me know when you place your order. ++
SIZE: The strand measures 49" or 1.24 meters end to end.
CARE: Because of the opal, ancient beads and ivory, antler, and amber elements, handle this set with care. Wipe the beads with a soft, damp cloth if you wish to clean them.
PRESENTATION: The Quiet Place Spirit Beads will arrive beautifully giftwrapped. See the shop policies below for details.
++ Shipping is included in the price. ++
HAVE A QUESTION? Click on the shop policies link below for more information. Feel free to contact me if you don't see the answer there.